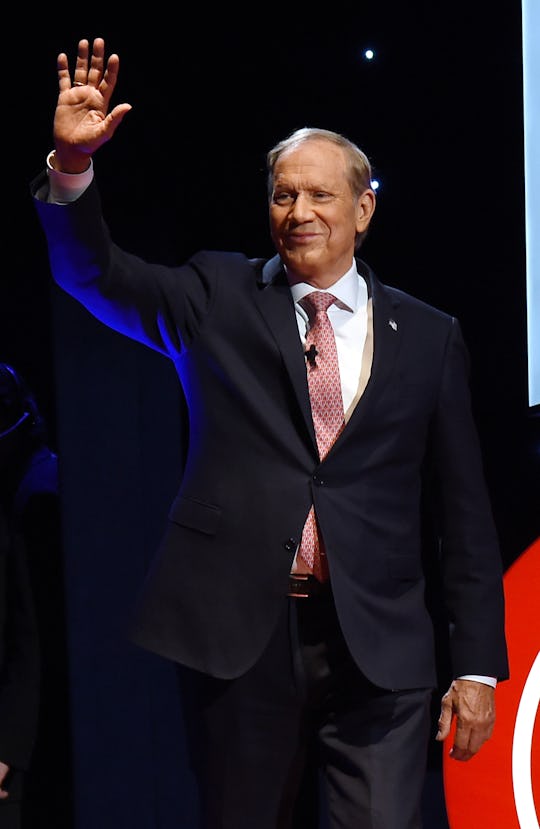 Getty Images
George Pataki Reportedly Drops Out Of Presidential Race, But Twitter Didn't Even Know He Was Still Running
And then there were 11. George Pataki dropped out of the Republican presidential race Tuesday, according to reports, and politicos reacted accordingly (read: snarkily) on Twitter. According to the Boston Globe, Pataki plans to make the announcement during Chicago Med on NBC tonight.
The former New York Governor ran for president in 2012, 2008, and 2012, so his low poll numbers are certainly not due to lack of name recognition, but he had trouble gaining popularity. Throughout this race, he's remained solidly behind other big names like Jeb Bush.
Overall, Pataki has averaged 0 percent in all the national polls throughout this campaign season. Of all the candidates, Pataki is a pretty moderate Republican, especially compared to characters like Donald Trump and Ted Cruz, who are currently leading in the polls with 35 percent and 17 percent, respectively. The former governor was just not able to get into the theater of it all. Last month, he told USA Today that the race had turned in "a reality gong show." He certainly wasn't hiding his frustration, saying of the debates:
This should be about letting the people choose as opposed to the media deciding. Early on in the process, it's name ID, it's resources. I didn't have a reality show. My father and brother weren't president of the United States. I hadn't run for president before. ... These early national polls are more about name ID and fame than about your ability to actually lead the country, so it's frustrating.
On social media, supporters and observers are already reacting to the news.
Some Are Sad To See Him Go
Others Are Poking Fun At His Low Polls
Others Are Just Happy To See The Pool Get Smaller
Although Pataki seemed sort of like a serious candidate, his campaign was doomed from the start. How do you go up against someone as loud as Trump? Here's to the next election, sir.
Image: Ethan Miller/Getty Images