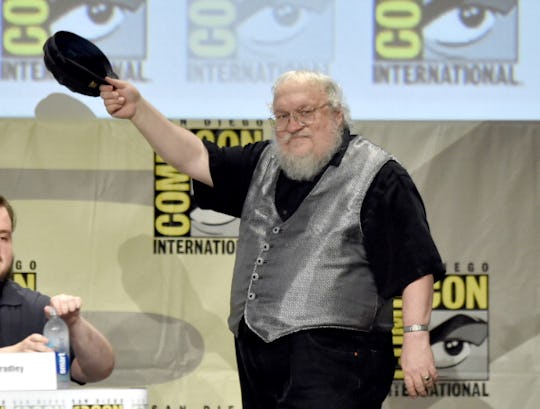 George R.R. Martin Won't Finish 'The Winds Of Winter' Before 'GOT' Season 6 & He's Just As Upset As You
On Jan. 2nd it became officially official: George R.R. Martin will not finish his latest novel, The Winds of Winter, before Game of Thrones returns to HBO in April of this year. 2016 is going to be a rough one, you guys.
The author and Jon Snow destroyer posted on his blog early Saturday morning that the writing "did not go as fast or as well as I would have liked", quick to point out that while Martin's fans, editors, publishers, HBO, agents and, well, everyone is disappointed, no one is more disappointed than him. He went on to write,
But the book's not done.Nor is it likely to be finished tomorrow, or next week. Yes, there's a lot written. Hundreds of pages. Dozens of chapters. (Those 'no pages done' reports were insane, the usual garbage internet journalism that I have learned to despise). But there's also a lot still left to write. I am months away still... and that's if the writing goes well. (Sometimes it does. Sometimes it doesn't.) Chapters still to write, of course... but also rewriting. I always do a lot of rewriting, sometimes just polishing, sometimes pretty major restructures.
The delay presents a potential problem for the HBO series, which is quickly catching up to the books and could inevitably reveal "spoilers" that haven't been revealed in the novels. Martin says he is aware of this growing concern, writing that he is willing to "break his own rules" and laid out his deadlines and how the Game of Thrones team was going to timeline the books and the show. Those deadlines, of course, came and went.
So, will the show spoil the novels? Martin's answer is short and complicated, all at once.
Maybe. Yes and no. Look, I never thought the series could possibly catch up with the books, but it has. The show moved faster than I anticipated and I moved more slowly.
As you can imagine, readers and viewers alike took to twitter to voice their disappointment, concern and (surprisingly) their support of George R.R. Martin because hey, writing is hard and deadlines are stressful.
Martin gave numerous reasons why another deadline has come and gone, sighting his nephew's wedding, an appearance with the Staten Island Direwolves, his consistent problem with deadlines in general, the popularity of the show and, inevitably, himself.
But I won't make excuses. There are no excuses. No one else is to blame. Not my editors and publishers, not HBO, not David & Dan. It's on me. I tried, and I am still trying.
For now, the new deadline is "when it's done, it is done" and Game of Thrones fans the world over is hoping this is a deadline Martin can - and will - actually keep.