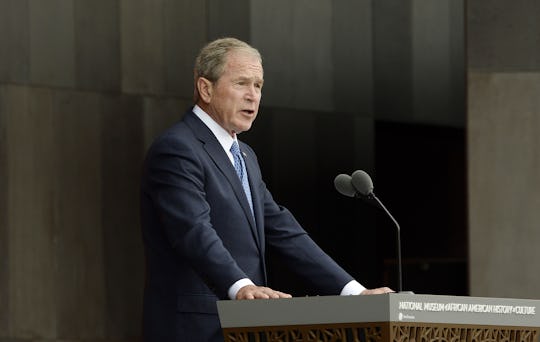 Pool/Getty Images News/Getty Images
George W. Bush & Laura Bush Didn't Vote For Clinton, Proving The Election Is Very Divisive
Election Day can be stressful. Everyone is voting and exercising one of the most important rights we have. And, understandably so, people wonder who voted for who. This election is incredibly divisive. You're either with Her or with Him. Or, maybe you're not. It has been reported that former President George W. Bush didn't vote for Hillary Clinton, but he supposedly didn't vote for Trump, either. According to certain outlets, like The Hill, Bush and his wife, Laura Bush, didn't vote for any presidential candidate, proving this election is like nothing we've ever seen before. A former president isn't even voting for someone to join a legacy he is a huge part of.
Breitbart wrote earlier today that according to the Washington Examiner, Rush Limbaugh, a conservative radio host and political commentator, said that he had been told that George W. Bush and Laura Bush voted for Hillary Clinton. The report is interesting, but comes as no surprise, considering earlier rumors had reported that the Bush administration was "split" over Donald Trump. According to CNN, George H.W. Bush said he would vote for Clinton as of September. Neither former presidents endorsed Donald Trump, the party's nominee in the 2016 election, suggesting that there could be a cross-party vote in the future.
The Washington Post cleared the air, stating that former Republican president didn't vote for the Democratic nominee, despite what Limbaugh said during his show. Freddy Ford, a spokesman for President Bush, told CNN on Tuesday that "Rush is wrong and should apologize."
While this seems to be a settled issue, it does show just how divisive this campaign has been. The fact that this was even a story — because, let's be honest, it takes a certain type of election for this to even be A Thing — shows that this is not a usual campaign. This is an election cycle that has brought out the good, bad, and ugly for each candidate.
Also, the fact that a former president has reportedly found the two candidates unfit for his own vote, we can only use that knowledge to understand how the American people must feel. With Election Day coming to a close (or a beginning, depending how you look at it), time will tell who will come out on top, and just how split the nation was when they actually got to the polls.