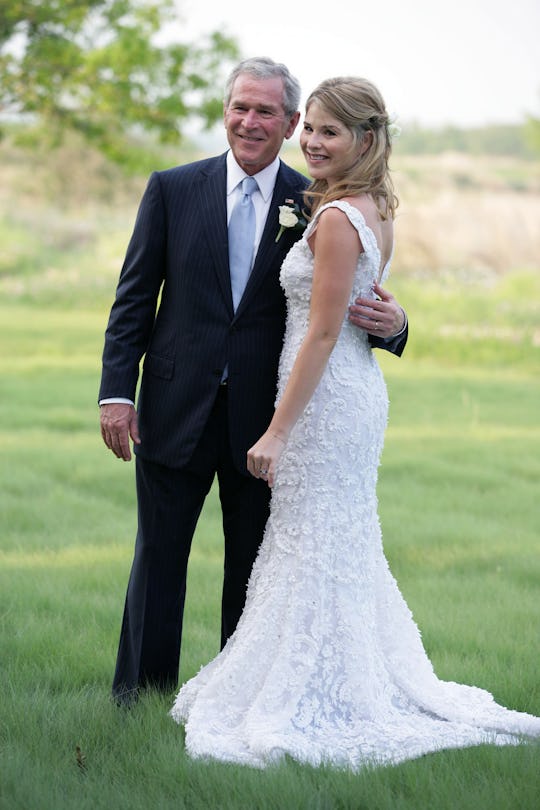 The White House/Getty Images News/Getty Images
Jenna Bush Hager Shares Powerful Words About Islam
While the last couple of weeks (OK, maybe months?) have been overwhelmingly negative for many people, the occasional bright spot of home to be found on the internet has been keeping a lot of people inspired. In a post Tuesday morning, George W. Bush's daughter shared his speech that said "Islam is peace." It was a subtle nod to the the current temporary travel ban ordered by the Trump Administration, which affects seven "Muslim-majority" countries. In a tweet, Jenna Bush Hager shared the text of a speech her father gave back in 2001 and encouraged America to "teach acceptance and love to our kids for all races, all religions."
Bush's speech came just a week after the attacks of Sept. 11, 2001, and urged the American people to remember that the Muslim faith did not represent terrorism. More than a decade later, Bush's pleas to the American people to not forsake the Muslim community are as powerful as ever:
The face of terror is not the true faith of Islam. That's not what Islam is all about. Islam is peace. These terrorists don't represent peace. They represent evil and war.
When we think of Islam we think of a faith that brings comfort to a billion people around the world. Billions of people find comfort and solace and peace. And that's made brothers and sisters out of every race ― out of every race.
America counts millions of Muslims amongst our citizens, and Muslims make an incredibly valuable contribution to our country. Muslims are doctors, lawyers, law professors, members of the military, entrepreneurs, shopkeepers, moms and dads. And they need to be treated with respect. In our anger and emotion, our fellow Americans must treat each other with respect.
Bush went on say that, though just days had passed since 9/11, members of the Muslim community were already being targeted, many of them fearful of leaving their homes:
Women who cover their heads in this country must feel comfortable going outside their homes. Moms who wear cover must be not intimidated in America. That's not the America I know. That's not the America I value.
I've been told that some fear to leave; some don't want to go shopping for their families; some don't want to go about their ordinary daily routines because, by wearing cover, they're afraid they'll be intimidated. That should not and that will not stand in America.
The speech ended with a denouncement of those who seek to bully, attack, and silence others, saying those people "represent the worst of humankind". Many would argue his words hold even greater meaning now, since his successor and current leader of the country ascended to power in no small part thanks to intimidation and divisiveness:
Those who feel like they can intimidate our fellow citizens to take out their anger don't represent the best of America, they represent the worst of humankind, and they should be ashamed of that kind of behavior.
This is a great country. It's a great country because we share the same values of respect and dignity and human worth. And it is my honor to be meeting with leaders who feel just the same way I do. They're outraged, they're sad. They love America just as much as I do.
Jenna and her twin sister Barbara were in their early 20s by the time their father became president, but they were children during their grandfather's — George H. W. Bush — presidency. Earlier this year, as the Obamas prepared to leave the White House, Jenna shared some photos from when she and Barbara had welcomed the young girls into the White House back in 2009. The Bush daughters also penned letters to Sasha and Malia Obama: one when the girls entered the White House, and one as they were leaving it, offering up words of wisdom from two young women who have been there.