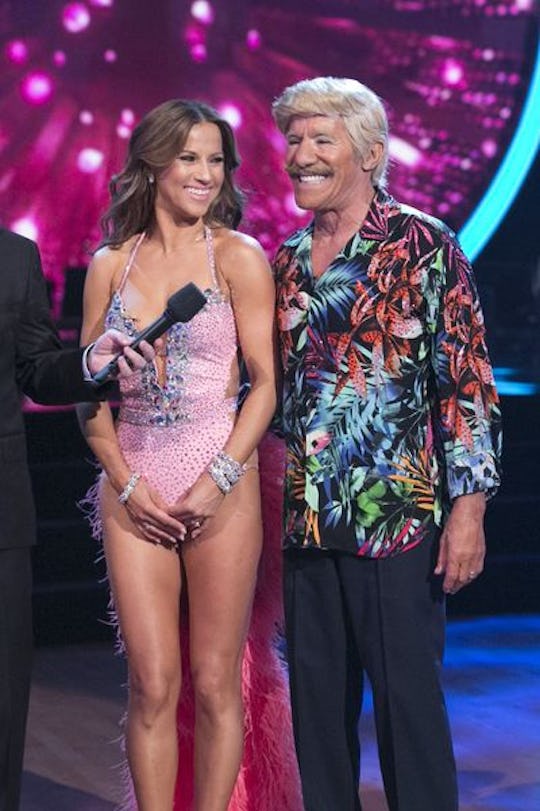 Adam Taylor/ABC
Geraldo Rivera Is Eliminated On 'Dancing With The Stars,' & The Trump "You're Fired" Joke Is Not Lost
I almost forgot that Week 2 of Dancing with the Stars would end with an elimination but alas, we had to say goodbye to someone. Fortunately, the loss this week wasn't that big of a hit to the talent pool, as Geraldo Rivera was eliminated on Dancing with the Stars. The lawyer, reporter, and former TV host was a ball of energy on the show — he was making Dancing with the Stars great again, if you will — but his dancing just wasn't enough to really capture the audience's attention. Too bad he didn't use his Donald Trump-inspired dance for Week 1, maybe whatever voting luck Trump has had during the election would have rubbed off on Rivera.
On Monday night, Rivera performed a Donald Trump-themed Latin number. it was pretty tongue-in-cheek, considering Trump's presidential plans for the Mexico and U.S. border. According to Rivera, he and Trump have been friends since the '70s, so he hoped that his "friend" would get a "kick" out of his dance. As Twitter-enthused Trump is, he has not released a social media statement about Rivera's parody. I'm sure he's just busy.
Rivera was a good sport about losing the competition. Being the first one out of the show is always a bit of a burn, but let's be honest, Rivera was probably never going to win. I think he knew that too, and instead of focusing on winning, he just focused on having a good time while he was there. It seemed like he did have a good time this week, which is what matters. Unfortunately, we can still make the joke that, Geraldo... you're fired.