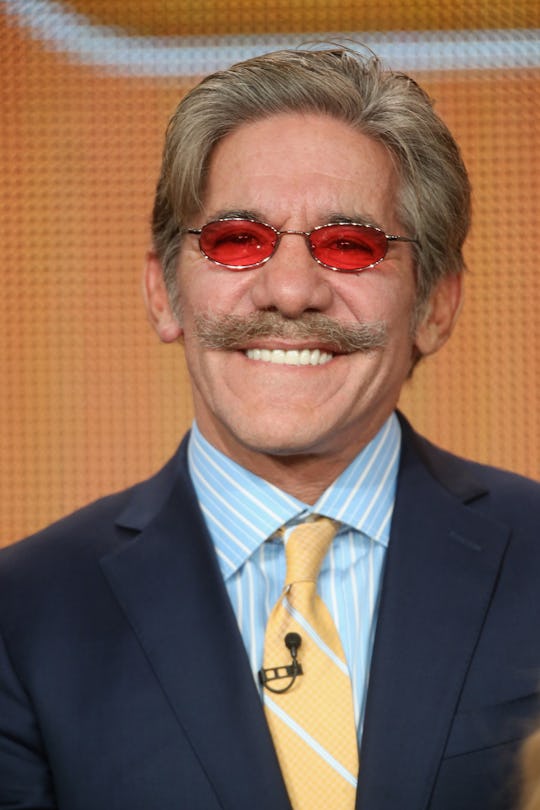 Frederick M. Brown/Getty Images Entertainment/Getty Images
Geraldo Rivera Wears A Donald Trump Wig On 'Dancing With The Stars' & Twitter Noticed
With Marla Maples on this season of Dancing with the Stars, it was only a matter of time until Trump jokes came to play. Well, Week 2 and we've got our first Trump joke, but it shockingly wasn't from his ex-wife. Instead, it was Geraldo Rivera who wore a Trump wig on Dancing with the Stars during the celebrity introduction during Week 2. It makes sense, since Rivera has a past as an attorney and reporter, that Trump would come up in time, but I don't think Twitter was expecting the Week 2 appearance just yet.
Marla Maples made a quick comment about her ex-husband on the first week of the show. She mentioned that the hair question — is it real? — is one question about Trump that she has heard enough of. Noted. Well, at least I noted it — it seems that Rivera didn't get the memo. During the introduction of celebrities, Geraldo Rivera came out looking dashing, but something was off. His hair was not the seasoned salt and pepper we're used to seeing. Instead, it was blonde and very familiar looking. It was a Trump wig, and Twitter definitely took notice of the familiar 'do.
One Twitter user voiced a fear that will definitely ruffle a few feathers if it comes true. Week 2 on Dancing with the Stars is Latin night, and a Trump reference seems to be hovering in the air. We'll have to wait and see what happens with that.