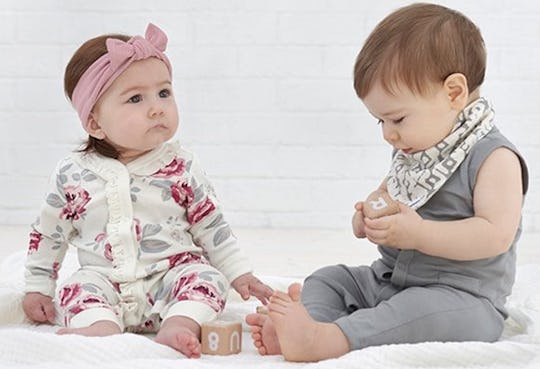 Gerber
I Am *Here* For The Soft Colors & Classic Patterns Of Walmart's New Gerber Baby Line
Baby clothes usually come in two options: cartoon animals or bright colors. But for parents and shoppers looking for muted colors, updated classic designs, and gender neutral pieces that you can mix and match, iconic brand Gerber has you (and your baby) covered. Gerber Childrenswear just launched Modern Moments exclusively at Walmart, and it's a dream for those who love a softer, more muted look. Additionally, the brand is keeping sustainability in mind by creating a line of soft fabrics made from organically grown cotton. Essentially, Gerber's line is boutique-like without that boutique price, and I am loving everything about this for the chic, savvy mom who wants quality and affordability without sacrificing baby's style game.
Speaking of sustainability, I really appreciate that Gerber has updated their practices and is using fabric made with organically grown cotton. Not only that, the fabric is Standard 100 Oeko-Tex® Certified, which ensures that dyes used in each baby item provide optimal safety for newborns. Then, for added comfort, the new collection is made with 3 percent spandex for extra stretch as baby plays and explores their new surroundings.
You can find a few examples of Gerber's Modern Moments collection below, but the line is also currently available in stores and online.