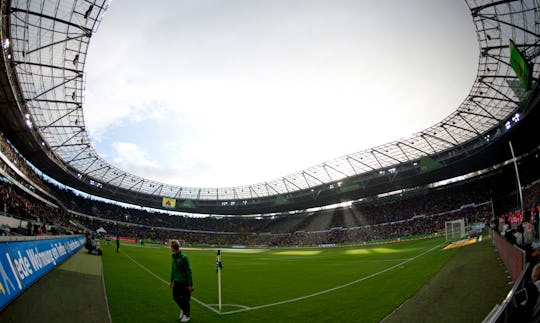 Germany's Hannover Stadium Evacuated During Germany & Netherlands Game — REPORT
UPDATE: No explosives were found at Hannover Stadium, according to Germany's interior minister Thomas De Maziere.
EARLIER: Germany's prime football venue, Hannover Stadium, has been evacuated, the Associated Press reports, following a threat involving the entire city of Hannover. The AP reports that a Germany-Netherlands game, which since been called off, was set to be played Tuesday night. The Telegraph reports a "suspicious suitcase" was discovered, while a German newspaper, Bild, reported that authorities thought a "concrete threat" was present. The city has also reportedly evacuated a concert venue, and public transit was shut down.
Said police to German press:
The match has been cancelled. Spectators are being asked right now to leave the stadium quickly, but without panic.
ESPN reports German Chancellor Angela Merkel had intended to be at the game.
The evacuation comes four days after at least seven assailants killed over 120 people and wounded over 350 more during the Paris Terror attacks. ISIS claimed responsibility for the tragedy, and a manhunt is currently underway for two suspects who might have been involved in an attack. According to reports, an assailant armed with a suicide bomb attempted to enter the Stade de France, where France was playing Germany, but was stopped by security. Instead, the man detonated his vest outside the Stade de France, as did two other assailants.
There's no indication that Hannover's evacuation has anything to do with the Paris attacks, but it's likely officials are more conscious of suspicious activity, and not taking any risks. Just one day before, Belgium canceled a game with Spain following security concerns.
Image: Odd Andersen/Getty