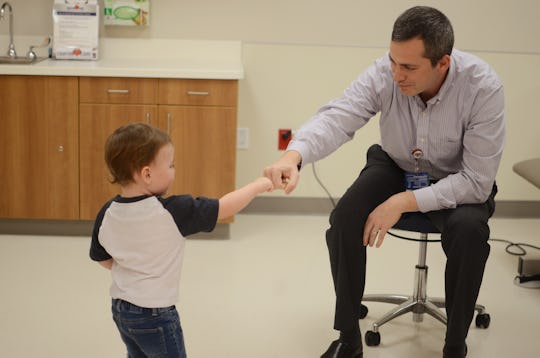 Courtesy of Scottish Rite
Get To Know The Hospital That's Giving Children Back Their Childhood
As parents, there's nothing we want more than for our kids to enjoy safe and healthy childhoods, free from complications that slow them down. And while it's practically inevitable that they'll take a tumble at some point in those growing up years, we'll do everything in our power to protect them from the more serious medical issues that every parent dreads.
So what happens when something daunting does happen? When a sports injury causes a severe bone break or the school nurse identifies the signs of scoliosis? The first — and most important — step after a diagnosis is seeking out professionals who can provide your child with the highest possible quality of care when it comes to their muscles, joints, and bones.
That's where Scottish Rite for Children comes in. Founded in 1921, the Dallas-based organization caters exclusively to children experiencing muscle, joint, and bone issues, giving them expert care through groundbreaking research and a 360-degree approach to treatment.
Romper partnered with Scottish Rite to talk to Chief of Staff Daniel J. Sucato, M.D., M.S., and Clinical Manager, Ambulatory Care Jennifer Bowden, R.N. about the amazing things the organization is doing to help kids get back to the running, jumping, and playing that should define their childhood.
Here's what sets them apart.
They're Hyper-Specialized
While most hospitals have a designated orthopedic department that treats patients of all ages, Scottish Rite specializes in children with bone, muscle, and joint issues. With expertise in everything from hip disorders, fixing bone deformities, to even fractures, the organization is able to hone in on these specialties and provide an unparalleled level of care to this select demographic of patients.
And just because they have a laser-focused mission doesn't mean they operate with a singular vision — their "whole child" approach to treatment means that they don't just perform surgery and send patients on their way.
"Our medical staff consistently places the patient and family at the center of care, including both surgical and non-surgical care," Bowden tells Romper.
With specialists in anesthesiology, radiology, psychology, pharmacy, and physical therapy, families can feel confident knowing that their kids are receiving comprehensive care from diagnosis all the way through recovery.
On what that looks like in practice, Sucato tells Romper:
"For example, when we see a scoliosis patient, we have the orthotists (experts in bracing), physical therapists, nurses, and psychologists ready to provide the necessary treatment...and determine the best care plan for each patient."
They're Breaking New Ground
Scottish Rite isn't just staying informed of innovations in pediatric orthopedics — they're actually the ones doing the research and developing the breakthroughs.
"The medical staff have all been selected because of their commitment to the three pillars we stand on at Scottish Rite [one of which is research]," Sucato tells Romper. "We want to answer the 'unanswerable' questions that exist for the pediatric orthopedic conditions we treat."
The Sarah M. and Charles E. Seay Center for Musculoskeletal Research employs experts in everything from surgery to genetics to molecular biology. This holistic research method means that instead of simply treating conditions, Scottish Rite works to uncover the causes, allowing them to provide a new standard of care to their patients.
They Invest In Their Community
Scottish Rite doesn't just go all out for their patients; they're also heavily invested in improving their community. At the core of this mission is their commitment to sharing the learnings gleaned from their medical breakthroughs with peers and the community as a whole.
And it doesn't stop there. Through partnerships with kids' sports programs, the organization supports the development of young athletes all over the state. Their sports medicine team provides education and resources to help young athletes, coaches, and parents learn how kids can avoid injury during sports and develop healthy habits that will set them up for game day — and lifelong — success.
They Make Care Accessible To All
In an industry that's known for its steep prices and never-ending medical bills, Scottish Rite prides itself on caring for all patients no matter their financial situation. Bowden knows that this starts with a strong team:
"We have a wonderful group of social workers and financial counselors that work very hard to support the financial needs and concerns of our patient population," she tells Romper.
Scottish Rite doesn't require physician referrals, which means any parent can submit a request for treatment, breaking a barrier that can often be exclusionary for potential patients. Moreover, Scottish Rite's fracture clinic in Frisco offers convenient walk-in hours with no appointment or referral needed. Their telemedicine capabilities also allow families to access the world's best pediatric orthopedic experts right from home.
While Scottish Rite accepts a wide variety of insurance, their Crayon Care program subsidizes treatment for qualifying individuals, so no child has to be denied care due to financial reasons.
In a time when many people have more questions than answers when it comes to healthcare, Scottish Rite is bringing their brand of leading-edge medicine to everyone who needs it — regardless of their ability to pay — and helping kids live their lives to the fullest, one childhood at a time. Per Sucato:
"The most gratifying thing we can say when walking from a patient's room, clinic room, or operating room is 'we were able to make a difference today.'"
This post is brought to you by Scottish Rite for Children.