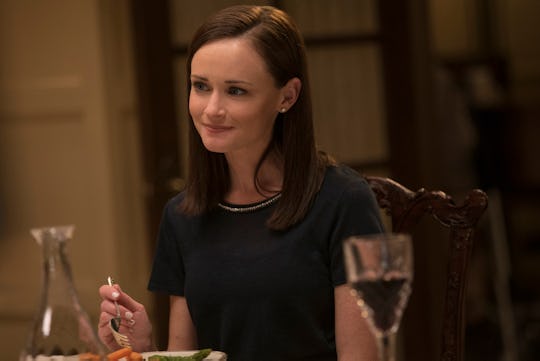 Saeed Adyani/Netflix
'Gilmore Girls' Revival Clues On Instagram Prove That Fans Cannot Wait For Its Return
In the weeks and days leading up to the release of the highly anticipated Gilmore Girls revival, the build up, the slow trickle of clues and teasers, as well as general excitement for the return of the beloved series has almost been too much to bear. Gilmore Girls revival clues on Instagram prove that no reference is too obscure to be seized on by fans, and no hint too minuscule to be parsed to death.
For several weeks now, the official Gilmore Girls Instagram account has been posting regular photos that feel less likes hints as to what's to come in these next four episodes, and more like nostalgic in-jokes to fans. When, for example, they posted a picture of an apple surrounded by Pop-Tarts, there was an initial flurry of suspicion that one, or maybe even both, of the Girls were pregnant, as Lorelai only ever ate apples when she was pregnant. It turned out it's far more likely to be just a reference to a Season 1 episode when Lorelai served Rory and the Chilton girls snacks arranged in just this way. Since then, the references have continued, including a shot of a "Vicious Trollope" lipstick, the Scorpio horoscope, a box of corn starch, and a picture of a tie clip with the heart-stopping caption "Hey, Ace."
Here are some of the most exciting and entertaining teasers released by the Gilmore Girls clan...
Jess Is Back
Jess was kind of known for taking all of his traveling advice from Kerouac and Hemingway, and carried all of his belongings in just this kind of destroyed duffel bag. If you see a bag like this on the counter, you know the prodigal Jess has returned. Although you probably already know that as he's most likely broken into the house and has helped himself to a beer.
Paris Is A Boss Lady
Who knows where Paris is working right now, but of course she has her name on a door somewhere. God only knows how many people she's made cry behind it.
How Gorgeous Are These Ladies?
The Boomerang Step and Repeat photos are amazing. These women don't seem to have aged at all in the past ten years.
But the official Instagram isn't the only one that's been sending out helpful hints. Some of the stars of the show have posted some great shots that make my heart go pitter patter.
Hep Alien Will Reunite
The band is back together! These three had the most delightful relationship and it is beyond satisfying to see them all together again.
More Random Reunions Will Occur
Now here are three characters from Gilmore Girls that might not necessarily be expected to hang out together. And yet here they are, looking chummy as all get out. Is this just proof of their friendship behind the scenes or could these three actually share some on-screen time together? And if so, why?
In any case, the revival photos definitely did what they were meant to do. Anticipation for the revival has never been higher and I can't wait to head back to Stars Hollow to see them all in action.