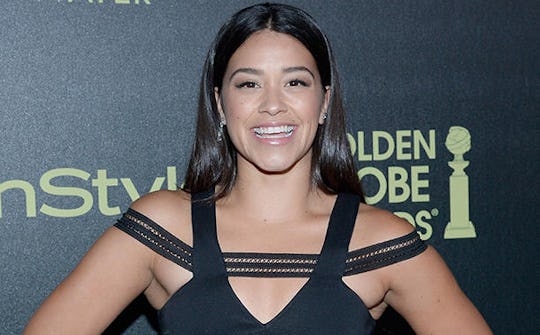 Gina Rodriguez Got Mistaken For America Ferrera By The Golden Globes, But She Doesn't Mind
When the Golden Globes confused two Latina actresses during the 2016 nominations announcement Thursday morning, Twitter was quick to point out the gaffe. However, one of those actresses responded that she was flattered by the comparison. After the official Twitter account of the Golden Globes confused America Ferrera with Gina Rodriguez, the Jane the Virgin star and nominee told Entertainment Tonight, "We always make mix ups in life." She added, "America's lovely. She's so beautiful and such a fantastic actress. If there's anybody I want to get mixed up with, it's her for sure."
Her "Who cares?" attitude sounded authentic. Rodriguez then expressed her gratitude to the organization behind the Golden Globes,"The Hollywood Foreign Press Association changed my life last year," she said. While Rodriguez would have been absolutely justified in calling the Globes out on its mistake, her decision to use it an opportunity to compliment the other Latina actress involved was also a positive one, and it kept the focus on Rodriguez (and Ferrera's) success rather than the organizations pretty egregious misstep.
The slip-up happened when former Ugly Betty star Ferrara presented the announcements for the Globes. After mistakenly shouting out Rodriguez as one of its presenters on its Twitter account (a tweet that was quickly deleted) the Twitterverse was quick to point out the foible.
Here are some of what America Ferrera's and Gina Rodriguez's fans had to say about the mistake:
Ouch.
Succinct.
Oops.
Congratulations to Rodriguez on her nod, mazel for having such a positive attitude, and nice work spreading love with your fellow actress, Ferrara. You go.
Image: Kevork Djansezian/Getty