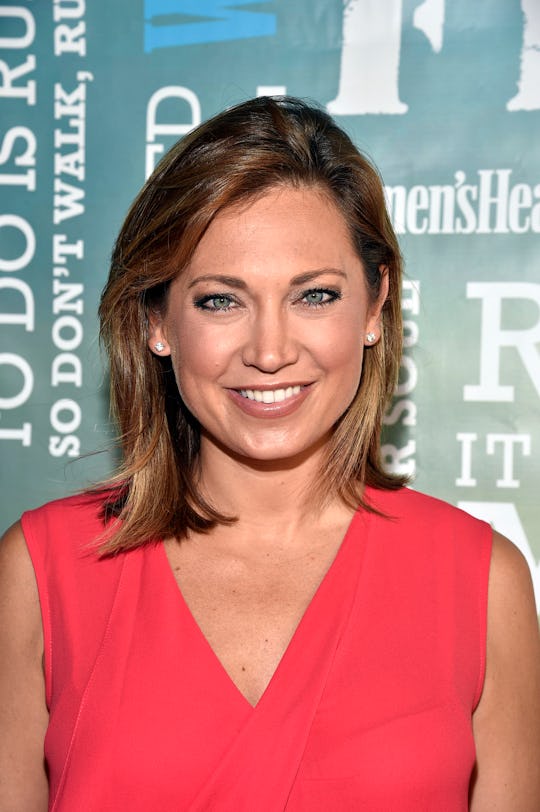 Bryan Bedder/Getty Images Entertainment/Getty Images
Ginger Zee Announces Her Pregnancy During A Weather Forecast In The Most Chill Way
On Monday, Good Morning America's meteorologist, Ginger Zee, outdid herself in the cute department when she announced her second pregnancy during the show's weather forecast. Although there a ton of sweet pregnancy reveals out there on the internet, this Zee's pregnancy announcement is beyond adorable.
Even if you're not a meteorologist, it's not hard to come up with a few weather-related quips for a pregnancy announcement. Although Zee could have simply said, "the forecast calls for baby number two," she went above and beyond with her pregnancy reveal. In the segment titled, "Ginger Shadow Forecast," Zee used a map of the United States to reveal her growing baby bump. While pointing to highlighted portions of the opposing coasts, Zee said, according to Us Weekly:
This is the breaking news part. There's a lesser known visual phenomenon that's about to happen on our maps only for the next five months. These areas are going to have a shadow from my belly because I'm pregnant.
Following some cheers and claps from the live-audience, Zee excitedly revealed that she's expecting a second son in February. Zee and her husband, Ben Aaron, are already parents to an almost 2-year-old boy named Adrian.
As for why Zee decided to share the news with viewers five months into her pregnancy, she explained, according to E! Online:
I feel good…five months left—[my belly is] gonna get big. That's why I had to tell everybody because it's already happening.
Oh, and if the broadcast wasn't sweet enough, Zee also shared a photo of Adrian holding a sonogram. Zee wrote, according to Instagram:
Adrian already asking to hold his little brother😉💙💙💙 new baby boy coming February 2018!
Zee's 2015 pregnancy announcement, on the other hand, had a sense of nervousness to it amid all the excitement. Surrounded by her GMA co-hosts, Zee admitted that she was scared to become a mom.
Zee said at the time, according to The Hollywood Reporter:
This is the most nervous I've been in a long time. I'll do anything, but this scares me.
Now that Zee is deep in the throes of parenting, those initial feelings of uncertainty have washed away. Shortly after giving birth to Adrian, Zee said, according to People:
Having a baby and then going into this challenge was really empowering. I've found a pride in myself that I'd never had before.
Well, it's safe to say the weather forecast for February is shaping up to be pretty adorable. Congratulations to Zee, Aaron, and Adrian on their new family member.