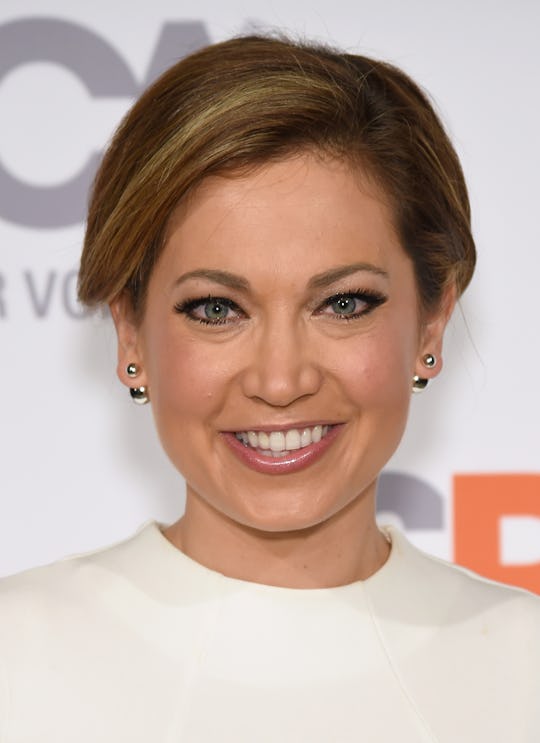 Dimitrios Kambouris/Getty Images Entertainment/Getty Images
Ginger Zee & Husband Share An Adorable Moment On 'Dancing With The Stars' & Are Joined By A Very Special Fan
The "most memorable year" week on Dancing with the Stars is always emotional and honest, but this year, Ginger Zee kicked it off with just an downright adorable routine. On Monday night's Dancing With the Stars, Ginger Zee and her husband Benjamin Aaron shared an adorable moment after her emotional performance with partner Val Chmerkovskiy. After the touching dance to Phillip Phillips' "Home," Zee raced across the dance floor to Aaron's spot in the audience, where the two shared a sweet, emotional hug and kiss. She actually had to be dragged back to the stage by host Tom Bergeron. Val jokingly went in for a kiss as well, but settled for a hug.
The "most memorable year" theme led to Zee choosing 2013, the year that she met her husband. Zee's contemporary lyrical was beautifully performed and choreographed, and drew positive remarks from the judges. (Though Len did say he would have liked more fluidity with the arms, which drew boos from the audience.)
Her package opened in New York City, in front of the fountain at Lincoln Center where she and Aaron had their first date. As Zee says, this was the moment that sparked the best part of her life. Since starting out as a small-time meteorologist in Flint, Michigan, Zee had focused on nothing but her career for many years. When she met her husband, for the first time, she was able to focus on herself and on her new family.
The couple welcomed their son, Adrian Benjamin, earlier this year, and it's clear how much Zee is loving her new role as a mom. From her Instagram posts to her jokes about inconvenient lactation, Zee is clearly so in love with her family, and it is adorable. Before getting her scores, she commented that so often people feel like they can't have it all. But, she said, "I feel like I have it all."
For the second week in a row, Ginger and Val scored 21 out of a possible 30, with sevens from each of the three judges. One fan who was not pleased with the scores was baby Adrian himself, who Aaron then brought out, complete with a bedazzled baby carrier. The little munchkin was obviously not happy, and cried the whole time, as Zee tried to calm him down.
Though Zee didn't earn top marks this time, her consistently high scores mean that she's still a force to be reckoned with. In any case, it's doubtful she'll be disappointed for long, with such a beautiful family to comfort her at home.