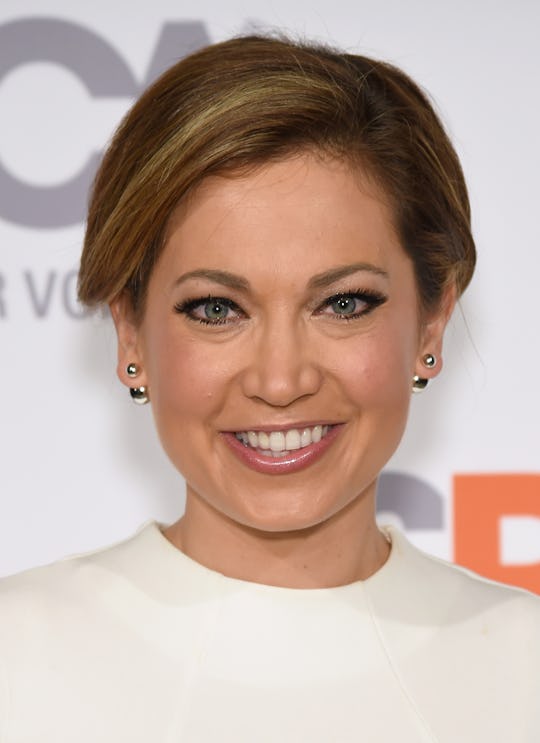 Dimitrios Kambouris/Getty Images Entertainment/Getty Images
Ginger Zee's 'Dancing With The Stars' 'Beauty And The Beast' Dance Was Truly Magical
On Monday's Disney-themed Dancing With the Stars, fan-favorite Ginger Zee and partner Val Chmerovskiy, otherwise known as #teamGinandJuice, wowed the audience, the judges, and the Twitterverse with their pitch-perfect foxtrot to "Belle (Little Town)" from Beauty and the Beast. The pair scored an incredible 36 out of a possible 40 points, with scores of nine from each of the judges (even Len, notorious for his curmudgeonliness), and rightly so, because Ginger Zee's Dancing with the Stars Beauty and the Beast dance was magical.
The dance began with a set of the little provincial town that looked like it had been swiped right off of a Broadway stage. Zee was perfect as Belle, from her adorable ponytail, to her sassy attitude, to her infectious smile, the lady completely owned the stage. She and Chmerkovskiy were so on point, they stole the show from early front-runner Antonio Brown, who started Disney night off strong with 35 out of 40 points with partner Sharna Burgess to Aladdin's "Friend Like Me." After a slightly disappointing score the previous week — really, she was just hard on herself —, Zee was confident that Disney night would be her breakthrough night, and she certainly did not disappoint the fans (or herself).
Scores on Monday seemed to be higher for almost all of the competitors. Antonio Brown, Von Miller, Paige VanZant, and Wanya Morris all put in performances that earned them their highest scores yet in the competition. This probably means that the dancers are improving their skills, and the competition is getting stiffer. Or, maybe it means that Disney Night gave everyone an extra burst of energy!
Whatever the reason, the judges agreed that today was a creative high point for all of the competitors. Immediately following Zee's foxtrot, Wanya Morris put in another fun and exciting dance, this time to The Lion King, which he apparently "really loves."
As magical and beautiful as Zee's performance was, she's still got competition. In the last performance of the night, Paige VanZant and partner Mark Ballas' dance to "You've Got a Friend in Me," from Toy Story, earned them straight nines as well, tying them with Zee for first place.
So, can Zee keep up the momentum from her breakout Disney foxtrot? We'll have to wait and see, but my money is on yes.