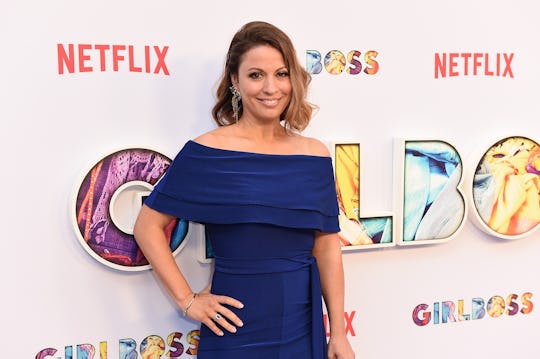 Kevork Djansezian/Getty Images Entertainment/Getty Images
'Girlboss' Creator Kay Cannon Wants You To Be Nasty
In October 2016, then presidential candidate Donald Trump called Hillary Clinton a "nasty woman." I imagine the now president remembers this historic moment as the time he single-handedly summoned all the disagreeable women of America to crawl from their sewers, like in Stephen King's It, and take to the streets. He wouldn't be wrong that it was an extremely motivating moment — it compelled women around the country to protest, to scream, to stand up for what they believe in, and to simply ask, "How did we get here?" "When Donald Trump called Hillary Clinton a nasty woman, everybody woke up a little bit," Kay Cannon, creator of Netflix's new series Girlboss, tells Romper.
Trump redefined the word nasty that evening, the Pitch Perfect screenwriter says, turning a word with synonyms like "horrible," "unpleasant," and "offensive" into a word that means you are someone who is "strong, confident, yells, has opinions, and isn't sitting quietly just being a polite person being told what to do." Kay Cannon is a very nasty woman.
Girlboss is loosely based on the life of Nasty Gal creator Sophia Amoruso, who in 2014 published the book Girlboss. The show isn't a scene-for-scene shot of Amoruso's life — in fact, the show's title card stresses how loose the interpretation is — but both the book and the show depict a woman who, in all senses of Donald Trump's definition, is "nasty."
In Girlboss, premiering April 21 on Netflix, Sophia — an unmotivated, cheap, disruptive, and unapologetic young woman living in San Francisco — launches her own eBay page, reselling vintage items she has curated with her refined eye. The page, called Nasty Gal Vintage, will eventually turn into the online retailer Nasty Gal, which later deals with its own fair share of struggles, just like the main character (played by Britt Robertson).
Sophia is an unusual character because she is clearly designed to be unlikeable at times. She says things that are completely inappropriate. She doesn't always make the most self-sacrificing call. She's also unapologetic. Cannon gambled that she could hold audiences' attention in spite of the fact that — or even because — the character isn't always appealing.
"If I made her too polite, people would've been like, 'Well, that's not the real Sophia,'" Cannon says. So her approach was to make her honest — relatable for some of us nasty women who don't always do the right thing at the right time. "I try to make her as honest as possible, and in that honesty, show the other side — her vulnerability."
Cannon says that the character's hostility isn't completely unwarranted, especially for someone in Sophia's specific life position. "Regardless of age, but particularly with Sophia because she was so young, when you don't know what your place is in this world, and you haven't found your passion, it manifests itself in different ways, and for her it was anger."
We can make change, and we can find power, and we can strain from what our dads told us to do, or our parents, or our boyfriend or our husband
Some people will say — and have said — that the show is a "letdown." CNN's review of the series said, "There's not that much heft in the situations or [Sophia's] character." But this character, according to Cannon, is unchartered territory. The show, or the character, seems wrong because it hits a note that hasn't been struck yet. "You can't just put young women in a box and tell us to be quiet," she says.
"I hope it gives permission for young women to find their own power," Cannon says. She tells me about a Girlboss rally she attended with the real Sophia, and describes the diversity of women, all there fighting for the same thing. "It was a room full of women saying, 'We can make change, and we can find power, and we can strain from what our dads told us to do, or our parents, or our boyfriend or our husband.' And you would think that we're past all that, but we're not. The world is kind of even more conservative than ever."
So where do we go from here? "I am constantly telling myself the advice that I would tell other women. Don't quit... You've got to keep fighting the fight," Cannon says. She encourages women to be loud and be heard, to yell and get into arguments. "Do not worry if people like you. You have to know [that] if you believe in yourself and you believe in what you're saying and what your opinions are, you'll have a voice."