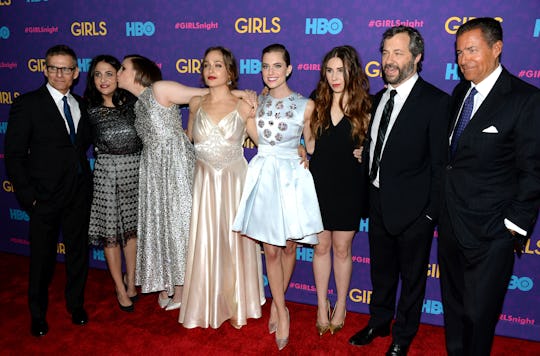 Andrew H. Walker/Getty Images
'Girls' Season 6 Will Be The HBO Show's Last — Report
According to several anonymous sources who spoke with E! News on Tuesday, the sixth season of HBO's Girls will be it's last. The news, which was confirmed by Variety a short while later, comes just ahead of the show's season 5 premier on Feb. 21. Although HBO has not yet made an official statement, earlier comments from creator and show lead Lena Dunham hinted that a lengthy run was never in the cards.
"I think America has a tendency to push shows past their due dates ... I like the British model–in and out," Dunham told Variety in April last year. "We definitely have a distinct idea of where we want to see them ... but between now and then, anything can happen."
Dedicated Girls fans need not worry just yet: With two full seasons left, there will be plenty of time to grieve the programming loss later. According to Dunham, the show's fifth season is slated to be a particularly interesting one.
"[Season 5] definitely has some darkness," Dunham told Variety. "I just wrote an episode in a fever dream. I had a moment where I was like, 'Did I accidentally write a remake of 'Traffic'? What just happened?'"
Earlier in 2015, Dunham told radio host Elvis Duran that she was considering "wrapping up" the show's main character arcs in the next few years. "Never say never, but that is the way that we're thinking about it right now," Dunham explained. "... I started working on this show when I was 23, and now I'm going to be 30 so it kind of feels right that this show kind of sandwiched my 20s and then I go off into the world."
In response to Tuesday's unofficial news, Girls fans all across Twitter began voicing their collective heartbreak. "The end of [Girls] is 2 seasons away, which means my life is currently flying out the window," joked one Twitter user.
Dunham will likely have little rest time between the end of Girls and her next project. Over the past few years alone, Dunham has been stacking her plate with a bevy of short films and advocacy work — and that's aside from all the tireless hours the New York native put into her highly talked-about (and highly controversial) book, Not That Kind of Girl.
Topping the list of Dunham's future projects is the newly-ordered HBO show Max, which, according to a Deadline report, chronicles the '60s publishing world and will star actress Lisa Joyce. (The show does not yet have a predicted air date.)
Fear not, Girls fans. Your favorite HBO show may be coming to an end, but there are bound to be plenty of good things taking its place.
Images: Andrew H. Walker/Getty Images