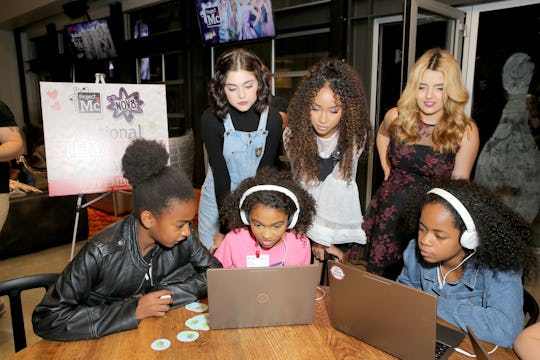 Rachel Murray/Getty Images Entertainment/Getty Images
Lyft Riders Give Girls Who Code $1 Million In Donations
For a long time, the tech sector has suffered from a gender gap in its workforce. But organizations like Girls Who Code have worked hard to bridge that divide by training young girls in computer science and preparing them for the professional world. And now, that mission will become easier to accomplish: Girls Who Code got a $1 million boost from Lyft riders, proving that people crave diversity in tech.
The hefty donation came through Lyft's Round Up & Donate program, which allows riders to make small donations to different participating non-profits, including Girls Who Code, according to TechCrunch. As part of the program, Lyft will automatically round up fares to the nearest dollar and donate the difference to the chosen charity. But, in order for Girls Who Code and other participating non-profits to receive donations, riders must opt in to the program through the app's settings, TechCrunch reported.
The $1 million gift has helped Girls Who Code launch 3,500 clubs across the United States, reaching nearly 90,000 young girls in all 50 states, according to Fortune. The donations from Lyft's Round Up & Donate program also helped support Girls Who Code's financial aid funding for students, classroom equipment, and teacher training, Fortune reported.
Reshma Saujani, founder and CEO of Girls Who Code, said in a statement, according to TechCrunch:
We couldn't be more excited to be celebrating the $1 million milestone with our friends at Lyft through their unique Round Up & Donate program. And the moment is made even more special knowing that this was made possible by the riders themselves!
This is the second donation boost that Girls Who Code has received from a ride-hailing app. Last year, Uber had announced that the company partnered with the national non-profit for a multi-year initiative that aims to bolster greater diversity in the tech industry, according to The Verge. As part of that partnership, Uber said it will donate $1.2 million to Girls Who Code over the next three years, The Verge reported.
And this gift has big implications for girls who are interested in computer science, but are without the resources. That's because Uber's million-dollar, multi-year donation will go towards developing more after-school immersion programs that teach tech to young girls at an earlier age, according to The Verge. At the time, Girls Who Code estimated that, because of the initiative, 60,000 more girls will have access to these types of computer science programs in school.
Studies show that, despite strides that have been made in the last few years, the gender and racial gaps still persist — and may be getting worse. A 2016 study conducted by Girls Who Code and Accenture found that the number of women holding computer science majors dropped to 18 percent in 2014 from 37 percent in 1984, according to U.S. News. And a report published by the Ascend Foundation last year discovered that the percentage of women of color in leadership roles in tech took a nosedive between 2007 and 2015, USA Today reported.
That is why representation matters. As Saujani told U.S. News in 2016:
I think for girls, you cannot be what you cannot see. And so when they have positive role models teaching them computer science, talking about the pioneers of computer science ... the impossible seems possible, and they then can imagine a place in that field for themselves.
There's no argument that tech companies need to do more to broaden diversity in their ranks, instead of just paying lip service. But even those businesses that have made efforts still run into problems, which is why organizations like Girls Who Code and Black Girls CODE, another of Lyft's participating Round Up & Donate nonprofits, are vital to addressing gender and racial disparities in the tech sector.
After all, if tech companies won't make the space for you, then you go ahead and carve that space out for yourself.