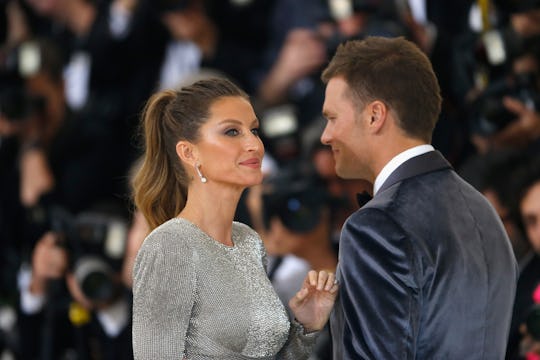 John Lamparski/Getty Images Entertainment/Getty Images
Gisele Bünchden & Tom Brady's Kids Eat "Plant-Based"
For parents, it can be hard to raise a healthy eater or a kid who's picky about food. Between thinking french fries are vegetables and only eating chicken nuggets and macaroni and cheese for every meal, kids can be notoriously difficult with their diets. But for mega-athlete Tom Brady and his supermodel wife, Gisele Bünchden, getting their kids to eat healthy is easy. This is because Gisele Bünchden and Tom Brady's kids eat a "plant-based" diet — and if you're about to judge them for it? Consider this: Don't.
The reasons for Bünchden and Brady putting their children — 7-year-old son Benjamin Rein and 4-year-old Vivian Lake — on such a diet is their personal decision and shouldn't have to be justified, so long as it's pediatrician-approved. They're free to choose what their children get to eat, and their children must like it if they're sticking with it. But for those who are curious (myself included), Bünchden did reveal to People exactly why her family has been eating "a more plant-based diet for years." Bünchden said,
We all love it. It's not only good for our health and makes us feel good, but is also good for the planet. My friend Paul Hawken taught me that eating a plant-rich diet will have a hugely positive impact on global warming as well.
So what does a mostly plant based diet consist of? A plant-based diet is exactly what it sounds like. According to Happy Herbivore, consumers of a plant-based diet eat fruits, vegetables, legumes and nuts and avoid eating animal-based products, such as meat or dairy. While a plant-based diet sounds like a vegan diet there is a difference — plant-based dieters, according to By Chloe, simply opt to eat plant based foods but vegans remove all animal products from their lifestyle.
While it's hotly debated whether or not a diet without meat or dairy is safe for kids, this discussion (or your personal opinion) shouldn't matter when it comes to Bünchden and Brady's decision. Sure, some people will say that they're not feeding their kids a balanced diet. But, according to Today, a carefully planned and well balanced plant-based or vegan diet can provide children with all of the nutrients vital for normal development. If the children's doctor is okay with it and they're both getting the proper nutrients, then people shouldn't judge the Bünchden-Brady family for eating mostly plant-based.
Both Bünchden and Brady have two of the most diet-dependent jobs (and they're two people I'd definitely want to take meal-prep lessons from, if I'm being honest). Think before you judge their family's diet choice and their reason to go plant-based, and applaud them instead for doing their best to raise some healthy eaters.