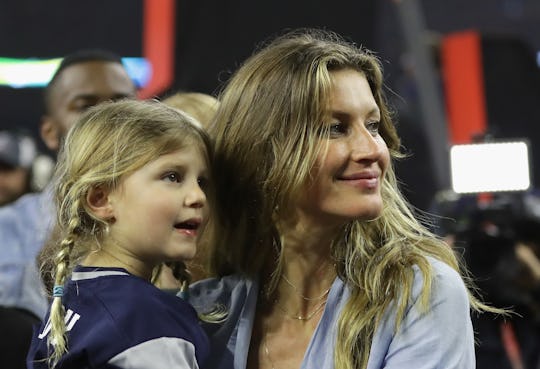 Ronald Martinez/Getty Images Sport/Getty Images
Gisele Bündchen Got Candid About Why She Regrets Getting A Boob Job After Breastfeeding
Gisele Bündchen has a knack for making motherhood appear effortless. For instance, in December 2013, Bündchen shared a gorgeous snap of herself breastfeeding her then 1-year-old daughter, Vivian, while her "beauty squad" prepped her for the day. But before you assume the model's life is perfect, know that she's no stranger to self-esteem issues. In fact, Gisele Bündchen revealed that she regrets getting a boob job after breastfeeding her kids in a new interview with People.
Bündchen, mom to Vivian, 5, and Benjamin, 8, and step-mom to John Brady, 11, appears easy to envy. Not only does Bündchen have a loving family that she often showcases on Instagram, but she also enjoys a successful career as an international model. Oh, and did I mention Bündchen is set to publish her first book, Lessons: My Path to a Meaningful Life, on Oct. 2? Yep, this mama has a lot to feel grateful about these days.
But Bündchen is especially lucky when it comes to her life as a mom, a sentiment she touched on with her infamous breastfeeding post.
"What would I do without this beauty squad after the 15 hours flying and only 3 hours of sleep #gettingready💄💅😉," she captioned the stunning shot of herself and Vivian.
What people don't know about Bündchen's days breastfeeding (she breastfed each child for 18 months, according to PopSugar), however, is that the process changed the shape and size of her breasts. Although this phenomenon is quite common, Bündchen especially struggled with the situation because of her high-profile modeling career. As she explained to People:
I was always praised for my body, and I felt like people had expectations from me that I couldn't deliver. I felt very vulnerable, because I can work out, I can eat healthy, but I can't change the fact that both of my kids enjoyed the left boob more than the right. All I wanted was for them to be even and for people to stop commenting on it.
Feeling insecure and conflicted about her body, Bündchen decided to get a breast augmentation in 2015, a decision she later regretted. "When I woke up, I was like, 'What have I done?' I felt like I was living in a body I didn't recognize," she told People. "For the first year I wore [baggy] clothes because I felt uncomfortable."
Luckily for Bündchen, she had the support of her husband, Tom Brady, to see her through the difficult feelings post-op.
"He just said, 'I love you no matter what' and that I looked beautiful," she revealed, according to TooFab. "This was definitely another lesson: What doesn't kill you makes you stronger. But I wish I would have learned that a different way."
Of course, each person approaches physical insecurities differently. Although plastic surgery isn't for everyone, as Bündchen pointed out, it can help others. To each their own.
What I personally find more compelling than Bündchen's breast augmentation admission is her normalization of common breastfeeding issues. Many parents experience differences in their breast size or shape once they start the weaning process, a phenomenon Kelly M. Kasper, M.D., an OBGYN at Indiana University Health, spoke about in detail with Redbook:
The production of breast milk and increased breast size can cause the breast skin and tissue to stretch. So after you finish breast feeding, the breasts become less dense and you notice that your breasts have an empty, sagging, or flattened look and feel.
Although it's unfortunate that Bündchen had to go through this period of self-doubt and pain, I think the bright side to this situation is that her candor could inspire other parents out there to feel less shame about their bodies. Body changes due to breastfeeding can happen to any parent, after all, and even to those who walk fashion runways across the globe.