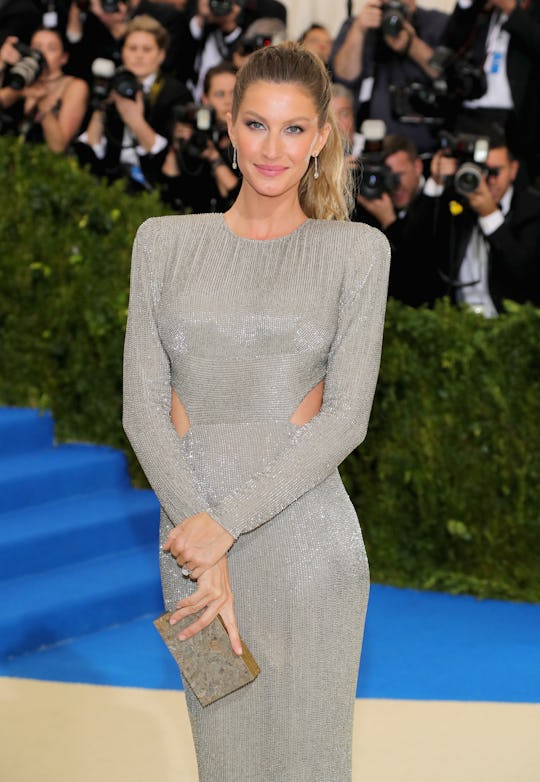 Neilson Barnard/Getty Images Entertainment/Getty Images
Gisele Bündchen Is Revealing How She Struggled With Motherhood
While it's true that no one knows everything about another person's life, even if you do live yours as a public figure, it's somehow never less refreshing to hear that someone who seems to have a picture perfect life is, at the end of the day, human like the rest of us. In a new interview for her upcoming book, Gisele Bündchen says she struggled adjusting to motherhood, and that the process of not "losing herself" in the role was tricky to navigate.
In an interview with People, Bündchen opened up, saying: "Things can be looking perfect on the outside, but you have no idea what's really going on. I felt like maybe it was time to share some of my vulnerabilities, and it made me realize, everything I've lived through, I would never change, because I think I am who I am because of those experiences."
She continued to explain that when she became a mother (she has two biological children, Benjamin and Vivian, with husband Tom Brady, and a stepson from Brady's previous relationship) she "kind of lost" herself. She continued: "It was like a part of me died. I'd been this very independent person. It was all about me. But now I had this little being, and I suddenly felt l couldn't do other things and that was very hard for me. All I ever wanted was to be a mom, but when you're actually experiencing that, it's a shock."
Surely it's something that anyone can relate to, but to hear it from someone whose life seems to be so flawless is a really important reminder.
Vogue reported that Bündchen recently released a new memoir called Lessons: My Path To a Meaningful Life. The book, which is set up like a journal of sorts, gives a first person narration of the ups and downs of Bündchen's life. Significantly, Bündchen also speaks about suicidal ideation, and her struggles with anxiety and depression.
"It felt like everything in my life was going to kill me," Vogue reported Bündchen wrote in her book. "First it was the airplanes, then elevators. Then it was tunnels and hotels and modeling studios and cars. Now it was my own apartment. Everything had become a cage, and I was the animal trapped inside, panting for air. I couldn't see a way out, and I couldn't stand another day of feeling this way."
It was at that point that Bündchen says she was pushed to the point of ideation, thinking that it was the way to "get out" of it.
However, Bündchen does also say that she's been able to mostly recover, her healing, to which she attributes working with medical professionals, cutting back or eliminating smoking, drinking and caffeine, and taking up yoga, meditation and a healthier diet. Altogether, Bündchen seems to be in a much better place.
But despite the progress, Bündchen also told People that finding balance and taking care of herself has been something she's had to work on, as it's all too easy to feel guilty for prioritizing your needs over those of your children's. "I had all this horrible, self-imposed guilt. I thought what a terrible mother I was for leaving my child even for like a day," she told the magazine. "I was feeling guilty for [taking the kids to work] too. Like, 'Here we are on a plane and the baby is crying.'"
And as for how she coped with the physical changes of having children? Well, she has some thoughts on that, too.
People also reported that in 2015, Bündchen underwent a breast augmentation after she delivered her child. "I was always praised for my body, and I felt like people had expectations from me that I couldn't deliver," she said. "I felt very vulnerable, because I can work out, I can eat healthy, but I can't change the fact that both of my kids enjoyed the left boob more than the right. All I wanted was for them to be even and for people to stop commenting on it."
However, she wasn't happy with the decision after-the-fact: "When I woke up, I was like, 'What have I done?' I felt like I was living in a body I didn't recognize," she says. "For the first year I wore [baggy] clothes because I felt uncomfortable," she said.
It's really important that mothers are having these types of conversations, whether they are supermodels by trade or not. The reality is that these struggles impact everyone, and normalizing them is a really crucial step in helping others cope better.