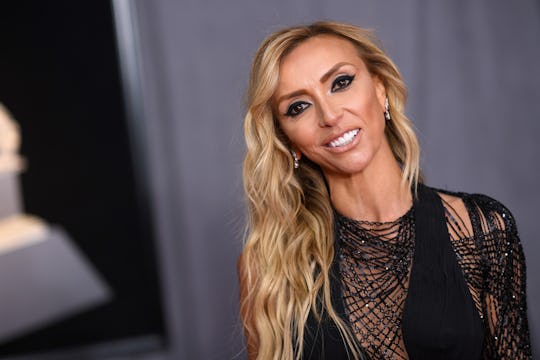 Dimitrios Kambouris/Getty Images Entertainment/Getty Images
Giuiana Rancic's Son Crashed Her Live TV Segment & Her Reaction Is So Relatable
As a work-from-home mom, my toddler is always interrupting me as I type away furiously at my keyboard for eight hours a day, if not more. Of course, he can't help it — he is, after all, only 3 years old and we spend our days in close quarters. But parents who work from home aren't the only ones who have to worry about mid-day interruptions. It's a problem for on-air talent, too. Just the other day, Giuliana Rancic's son, Duke, hilariously crashed her live TV segment for E! News, and her reaction is not only priceless, it's totally relatable.
Rancic made her return as E! News co-host earlier this month, and you can say her time back in front of the camera has been adventure. On Thursday, the 44-year-old television personality brought her 6-year-old son, Duke, to work, and showed him the ropes, like how to operate a camera, according to Yahoo! Duke was hanging backstage while his mom and co-host Jason Kennedy were recording their live segment for E! News when he decided standing behind the camera just wasn't that fun as being in front of it, Yahoo! reported.
Cue Duke's adorable — and awkward — on-air dancing.
Kennedy first noticed Duke had snuck on stage and began busting a move in front of the projector, according to The Sun. And Kennedy just could not contain himself: Once he spotted Rancic's 6-year-old son dancing behind them, he broke down in laughter that last for sometime, The Sun reported. Rancic, for her parent, was left in stitches, too, but also tried to do damage control, because that's what parents do best: Multitask.
Once Rancic spotted her son, she said on air, according to Yahoo!:
Oh, my God — Duke! I did not know Duke was right [there]. Hi, honey — mommy's working. Mommy's working.
That didn't work because, let's be honest, telling your kid you're working never works. In fact, just an hour ago, I said the same thing to my son. Instead of going to play, he decided to shove in my face the instructions to building a racetrack I bought him.
Kids...
When Duke wouldn't stopping dancing, Rancic turned to another trick in the working parent playbook: A bribe. She said to Duke, according to Yahoo!:
Literally, this was not planned. Hi, honey, you're supposed to go over there. I got you a chocolate.
No dice. Neither was Rancic's plea that "Mommy's doing a TV show." Eventually, though, the E! News host was able to wrangle Duke backstage, with Kennedy following, according to The Sun.
Both Rancic and Kennedy shared a clip of the excitement to their respective Instagram accounts. Kennedy captioned his post, which received nearly 160,000 views, with, "When you can't find a babysitter.... 🤣🤣," Rancic's post, which has a whopping 502,852 views, is simply captioned "#momlife" — because #momlife.
Rancic scaled back her full-time hosting duties back in 2015 to focus on her family, which includes husband Bill, People reported. (Though she stepped away from her main anchor gig, Rancic still served as co-host for various red carpet shows.) In April, the working mom said during an appearance on The View, according to People:
You know, never an easy decision, right? Especially when you love your career. But I had to do it. My priorities were a little out of whack for a while there. I was just working so much and if anyone knows my story, we struggled to have a child. We went through infertility, and it was a long process.
Now that she's back to work at E! News, Rancic is not slowing down — nor is she putting her family in the backseat. There's a lot to juggle when you're working full-time and raising a family, but it seems Rancic is up fo the challenge.