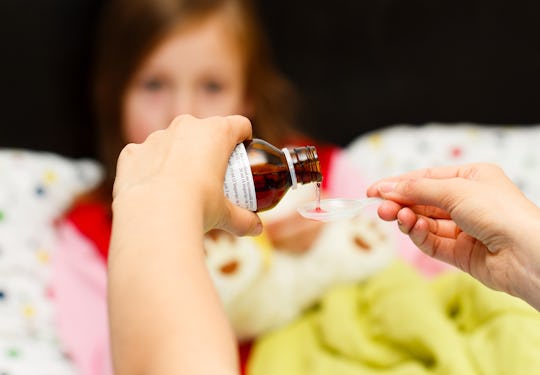 Barabas Attila/ Fotolia
Why Your Kid's Cough Medicine May Have Just Been Banned By The FDA
For most of the United States, the winter season is synonymous with cold weather, blizzards, and runny noses. Hundreds of thousands of kids across the country are wiping snot from their faces as they play tag inside their school's gym. And that means hundreds of thousands of parents are dealing with sick little ones who have to stay home for the week. But don't expect your pediatrician to give you the usual prescription children's cold medicine for treatment; this week, the U.S. Food and Drug Administration has warned doctors and parents to no longer give kids opioid-based cough medicine, in an effort to further minimize safety risks.
On Thursday, the FDA announced that children of any age should no longer take cold and cough medicines containing codeine, hydrocodone, or other opioid ingredients, according to CNN. As part of its latest action, the federal agency will now require drug manufacturers to label these type of prescription drugs for adult-use only, meaning any person 18 years or older. Drug makers will also have to include an expanded boxed warning for adults addressing misuse, abuse, addiction, overdose, death, and other risks associated with opioid use, CNN reported.
The FDA made the decision to limit use of opioid-based cold and cough medicine among children under 18 years old because the associated risks outweigh their potential benefits, KTLA reported. The new safety labels will fall in line with other opioid-based medicines.
FDA Commissioner Scott Gottlieb, M.D. said in an agency news release announcing the latest action,
Given the epidemic of opioid addiction, we're concerned about unnecessary exposure to opioids, especially in young children. We know that any exposure to opioid drugs can lead to future addiction. It's become clear that the use of prescription, opioid-containing medicines to treat cough and cold in children comes with serious risks that don't justify their use in this vulnerable population.
Gottlieb added,
It's critical that we protect children from unnecessary exposure to prescription cough medicines containing codeine or hydrocodone. At the same time we're taking steps to help reassure parents that treating the common cough and cold is possible without using opioid-containing products.
The FDA's newest public warning comes five years after the federal agency instituted a "black box warning" against prescribing the opiate codeine to children who had surgery to remove their tonsils or adenoids (the patch of tissue just behind the nose), according to KTLA. That action in 2013, though, had mixed results: Although it decreased the number of pediatric pain relievers containing codeine by significant numbers, a Pediatrics study published in November found that one in 20 kids still received opioid medications after a tonsillectomy or adenoidectomy.
The FDA announced in 2015 that it planned to investigate the potential risks of using cough and cold medicine containing opioids to treat children younger than 18 years old, according to KTLA. Two years later, the federal agency further restricted the use of codeine and tramadol, another opioid, among children under 12 years old after the FDA warned that they could lead to severe and life-threatening breathing problems. The FDA also recommended nursing parents refrain from taking prescription drugs containing codeine or tramadol, according to last year's consumer update.
For the last decade, several states across the country have battled a deadly opioid epidemic. In 2015 alone, there were more than 20,000 overdose deaths related to prescription opioids, according to the American Society of Addiction Medicine. What's worse: The ASAM found that, three years ago, 276,000 kids between 12 and 17 years old were addicted to prescription opioid pain killers. The rate of prescribing opioid-based medicine to children and young adults nearly doubled over a 13-year period, from 1994 to 2007, according to ASAM's 2016 report.
Parents should talk with their children's doctors if they are currently using prescription cough or cold medicine with opioid ingredients. The FDA also recommended parents read the labels of over-the-counter children's medicine, as a few states allow products containing opioid ingredients to be sold on pharmacy shelves.
Check out Romper's new video series, Romper's Doula Diaries:
Watch full episodes of Romper's Doula Diaries on Facebook Watch.