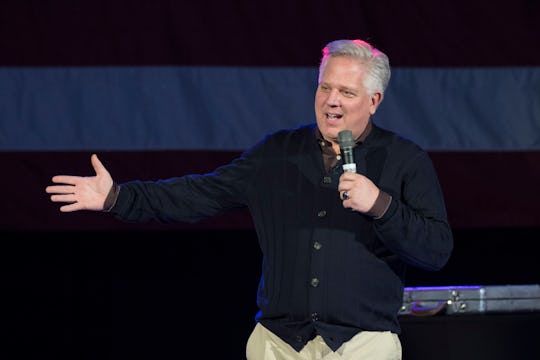 J Pat Carter/Getty Images News/Getty Images
Glenn Beck Supports Black Lives Matter & Says Obama Changed Him For The Better
No, it's not Opposite Day, and this article is not a work of satire. Conservative firebrand Glenn Beck supports Black Lives Matter, and says that President Barack Obama changed him for the better. Perhaps there is some hope for building a bridge over America's gaping partisan divide after all.
Beck — who, as The New Yorker's Nicholas Schmidle points out, is well known for his chalkboard-scribbling Fox News segments, calling Obama a "racist" who has a "deep-seated hatred for white people," and for promoting what many have deemed to be conspiracy theories about the government — seems to be changing his tune. In a recent interview with the magazine (beautifully titled "Glenn Beck Tries Out Decency"), he talks about discovering Michelle Obama's recent speech on Donald Trump. In the speech, which was one of the most powerful moments of this election cycle (Michelle 2024, please!), the first lady condemned Trump's remarks about women and his bragging about sexual assault, speaking in a deeply personal way and calling on all Americans to reject such unacceptable treatment of women.
The speech apparently hit Beck hard. On his radio show, he later called it "the most effective political speech I have heard since Ronald Reagan," telling The New Yorker, "If you're a decent human being, those words were dead on." And that's not all. Over the course of his interview, he confirmed that he'd call himself a "supporter" of Black Lives Matter, and actually said the words, "[Barack] Obama made me a better man."
It seems, as people on Twitter put it, Glenn Beck kind of got woke.
Millions rushed to their windows to check for flying pigs. Still, while the interview marks a shocking turnaround for Beck, it hasn't come out of nowhere. Back in early September, he wrote an editorial for The New York Times entitled "Empathy For Black Lives Matter." While he didn't go so far as to say he supported the movement then, Beck wrote, "We need to listen to one another, as human beings, and try to understand one another's pain." He described getting to know various Black Lives Matter activists, and called for reconciliation.
It also seems that some of this soul-searching has been prompted by the Trump campaign. Beck has long opposed the Republican nominee, even writing that refusing to support Trump is the "moral" choice even if it leads to the election of Hillary Clinton, and he called Trump "dangerously unhinged" in the new interview.
Perhaps, ahead of a possible Trump presidency, Beck has realized that the man he'd spent eight years insulting wasn't so bad after all. Here's hoping he's only the first of many to come to that conclusion.