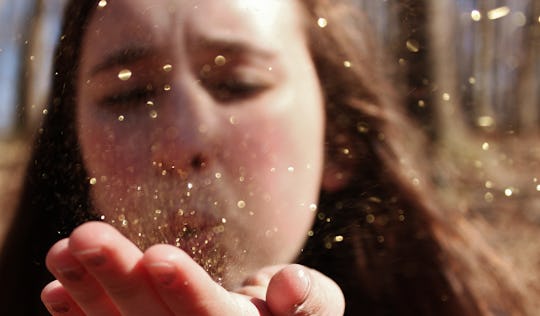 "Glitter Roots" Is The Surprising Hair Trend That We're Dying To Do To Ourselves And Our Kids — PHOTOS
For all my fellow moms who are yearning for ways to up their personal style game with craft supplies (as we all are?), have I got some news for you! Glitter roots are apparently a new hair trend, and as random as it seems, I'm kinda into it. This does seem like a glorious way to add some sparkle to your day, your night, and also probably to the floor in front of your bathroom mirror. The idea has everything that a great hair trend should have: color, pizzazz (yes, pizzazz), a way to cover up unsightly grow-out, a nostalgic pre-teen vibe, and an element of surprise since glitter doesn't normally go in hair... until now. 
The good news is that even if you don't currently have roots to cover, you can probably still get away with glitter roots since who is going to really be policing that anyway? On a personal note, I'm dealing with a growing-out-my-bangs-issue, and I'm all over this idea. Some confetti above my eyes will likely distract anyone from the awkward lengths of my layers. All joking aside, I do love the creativity and boldness displayed here. I'm usually a bit more tame when it comes to my own hair, sticking with styles that are easy and quick, but this particular trend has got my attention. The next time I have a sports team to root for, a festive party to attend, a music video to appear in, or some school spirit to display, I just may have to give this a try.