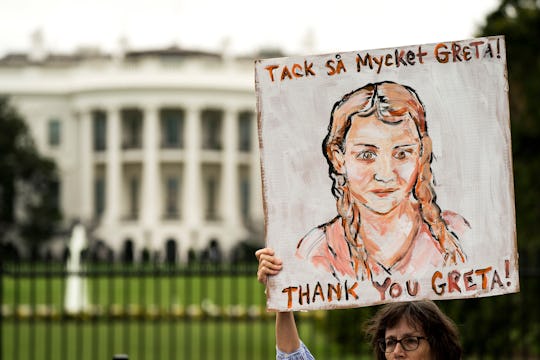 Sarah Silbiger/Getty Images News/Getty Images
U.S. Students Join Youth Activists Around The Globe To Demand Climate Action
Tens of thousands of young people around the world are expected to walk out of their classrooms on Friday and into the streets for a Global Climate Strike. With Fridays for Future marches and rallies planned in more than 150 countries, Friday's youth-led call for climate change action will no doubt be an international movement. But with so many children and young adults intent on sparking environmental reform, you may be wondering how you can support youth activists in the Global Climate Strikes and get involved in climate advocacy efforts yourself.
Young climate activists frightened about the impact climate change will have on their futures and frustrated by what they feel to be adults' lack of action to combat the issue, have organized an international strike in an effort to push policymakers into action. This time, however, they've invited everyone to join them, even adults.
In response, folks everywhere are stepping up to show their support for the Global Climate Strikes. For example, more than 700 health and medical professionals have signed a "doctor's note" excusing striking students from class. A coalition of tech workers from Amazon, Facebook, Google, Microsoft, and Twitter, to name only a few, have vowed to join their local Global Climate Strikes in solidarity. What's more, there are a number of ways you can show your support between then and now.
Here's how to support youth climate activists and get involved in the Global Climate Strike yourself: