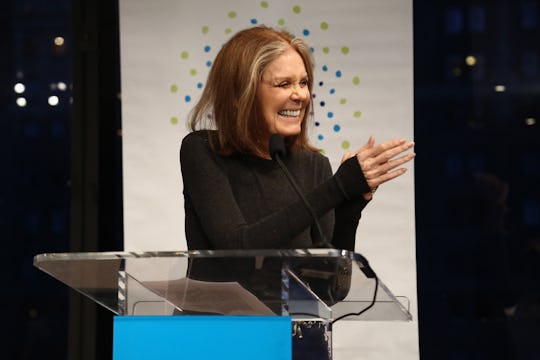 Gloria Steinem Wrote A Christmas List, & Here Are 9 Ways To Make Sure Her Wishes Come True
If feminists collectively wrote a letter to Santa, this would be it. Gloria Steinem's Christmas wish list is on Facebook, and it's definitely a must-read. The list spans politics, business, Uber, and feminism to provide a seriously lovely prescription for society. To be totally honest, I'm kind of ready to just print off Steinem's list and hand it out to everyone I know who's looking for a guide on what to buy for me this season.
Steinem is an activist largely credited with growing and popularizing feminism. After co-founding Ms. magazine in 1972, she wrote five books, produced both a documentary and feature film, and played an incredibly critical role in founding the Women's Action Alliance, the National Women's Political Caucus, Women's Media Center, Voters for Choice, Choice USA, Ms. Foundation for Women, and Take Our Daughters to Work Day (so you can thank her for all of those glorious days off). Inspired by "Gandhian activism" she witnessed during a fellowship in India, she's been a force for feminism in the United States for decades. This year, instead of giving to all those she's already helped, she's asking others to give back, and not just in the name of feminism.
Unsurprisingly, Steinem's Christmas list gives a fairly good idea of what she stands for both as a woman and as a fellow human (and one that cares about the impact we make and the legacy we leave). Perhaps the most important takeaway from her list, though, is that everything she asks for comes in the form of concrete things anyone can do.
Her list is simple, and among it, a few things: an apology from Trump, a continued focus on raising our sons like our daughters (and our daughters like our sons), Ubers that don't charge you for the weather (which is a thing you cannot control) , and more.
So in order to make her dreams come true, here's what we can do for Steinem and ourselves this holiday season:
9. Keep An Eye On Trump
Item 10 on Steinem's wish list asks Donald Trump to apologize for, among other things, "being a Birther" and "anti-immigrant." Knowing that Trump is not often one to reverse course, Steinem added an alternative in item 9:
If Trump doesn't apologize, I wish us all the gift of remembering that Hitler was democratically elected — in a low voter turnout.
When Trump starts using inflammatory rhetoric, it's tempting to turn off the TV and shut him out. Steinem shows that there's a real risk to not paying attention. One of the smallest things you can do to make her dream come true is listen carefully to the presidential candidates. And when someone such as Trump says something that you believe challenges the values of the nation, sound off on social media or contact the candidate directly.
8. Advocate For Prison Reform
Steinem writes:
I would like state legislatures to stop building prisons with money that once went to universities, thus keeping way too many people in prison and way too many people in lifetime debt. This would not happen if Americans gave ourselves the gift of knowing and caring who our state legislators are.
The woman whose story inspired Orange is the New Black, Piper Kerman, is a major advocate of prison reform. She travels the country mobilizing individuals of all ages to care about an often marginalized issue: the jump from 500,000 to 2.3 million imprisoned individuals in the United States in less than 30 years. If you'd like to support men and women like Kerman working to decrease punishment for nonviolent offenses, guard against civil rights abuses, and advocate for a greater emphasis on rehabilitation in the criminal justice system, Kerman offers a list of recommended organizations on her website.
Steinem also asks for greater attention to state legislators. To find out who's working for you, use the Library of Congress' state legislature website directory.
7. Work Against Gender Stereotypes
For item seven, Steinem writes:
I'm glad we've begun to raise our daughters more like our sons – but it will never work until we raise our sons more like our daughters.
The team behind acclaimed film Miss Representation recently debuted a new documentary, The Mask You Live In, focusing on the struggles boys have with gender stereotypes. According to The Representation Project, "Research shows that compared to girls, boys in the U.S. are more likely to be diagnosed with a behavior disorder, prescribed stimulant medications, fail out of school, binge drink, commit a violent crime, and/or take their own lives."
Watch the documentary, then consider hosting a screening in your community. Whether you host a mom movie meetup or a more formal event at your child's school, you may be able to help more parents raise well-rounded boys.
6. Support Black Lives Matter
In item six, Steinem praises the founders of Black Lives Matter — Alicia Garza, Opal Tometi, and Patrisse Cullors — and their organizational values of love, trust and low ego.
In the past year, Black Lives Matter successfully advocated for investigation into police practices in Chicago, Baltimore, and Ferguson, Missouri. You can find out how to get involved on the Black Lives Matter website.
5. Write To Uber
Steinem asks that Uber "stop charging for the weather" and "stop refusing people with disabilities." You can ask Uber co-founder and CEO Travis Kalanick to change either or both policies at this address:
Uber HQ
1455 Market St
San Francisco, CA 94103.
If you want to pitch an article to your local paper or news site, you can request a comment from the company using their Media Inquiry form. Starting a conversation on social media works, too: Uber is on Facebook, Twitter, and Instagram.
4. Send President Obama A Christmas Card
The fourth item:
I would like us all to send a nice Christmas thank you to President Obama – for surviving ultra-right-wingers who, if they had cancer, and Obama had the cure, wouldn't accept it.
You can totally do this. Send a card to
1600 Pennsylvania Ave NW
Washington, DC 20500
3. Push For Tighter Gun Laws
Here's what Steinem has to say about gun control:
I want any young men who buy a gun to be treated like young women who seek an abortion. Think about it: a mandatory 48-hours waiting period, written permission from a parent or a judge, a note from a doctor proving that he understands what he is about to do, time spent watching a video on individual and mass murders, traveling hundreds of miles at his own expense to the nearest gun shop, and walking through protestors holding photos of loved ones killed by guns, protestor who call him a murderer.
Learn more about the issue on the Coalition to Stop Gun Violence website, then contact politicians. Use the House's "Find Your Representative" tool and the Senate's search tool to determine who should be on the receiving end of your letter, email or call.
2. Show some love to BETTY.
Steinem expresses her support for BETTY and their work to empower women globally. You can find out how to get involved with their work on The BETTY Effect website.
1. Cheer on Gloria Steinem!
Her last point:
Finally, I want to make it to 100 -- because I don't want to leave, I love it here.
Find out how to follow feminism's leading lady on her website. She's a holiday gift to women everywhere!
Read Steinem's full list here:
Image: Astrid Stawiarz/Getty Images; Giphy (4)