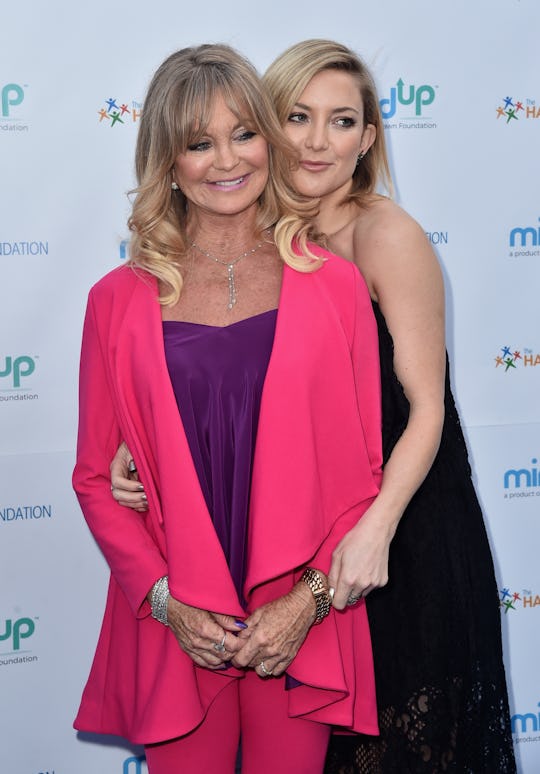 Alberto E. Rodriguez/Getty Images Entertainment/Getty Images
Goldie Hawn's Encouraging Advice For Moms Is Exactly What You Need To Hear Today
From the moment you see that positive pregnancy test, it seems like everybody and their brother has parenting advice to dish out. (You know, whether or not expectant parents ask for it.) Don't hold the baby all of the time, or you'll spoil him. Sleep when the baby sleeps. Enjoy every moment because it goes by so fast... You know the drill. Although these tidbits of "wisdom" probably come from a good place, they're not actually very helpful. With that said, Goldie Hawn's parenting advice after her daughter, Kate Hudson, welcomed her third child is something all moms need to hear.
In case you were too busy running around your own kiddos to hear the good news, Kate Hudson welcomed her third child — and first with her boyfriend, Danny Fujikawa — to the world earlier this week. The actress took to Instagram on Wednesday, revealing, "She's here 💕," along with an image that simply read, "10-02-18," according to E! News.
This is actually Hudson's first daughter, as she has two sons from previous relationships: Ryder, 14, with her ex-husband, Chris Robinson; and Bingham, 6, with her ex boyfriend, Matt Bellamy, according to Women's Health. Hudson also announced her baby girl's name via Instagram, along with the meaning behind it. "We have decided to name our daughter Rani (pronounced Ronnie), after her grandfather, Ron Fujikawa, she wrote, according to E! News. "Ron was the most special man who we all miss dearly. To name her after him is an honor."
The proud mama continued:
Everyone is doing well and happy as can be. Our family thanks you for all the love and blessings that have been sent our way and we send ours right back.
While talking about her new collaboration with Hudson's activewear company, Fabletics — which benefits MindUP, Hawn's nonprofit that teaches children compassion and kindness — Hawn shared her hard-earned parenting wisdom with People.
"We do the best we can as mothers," the 72-year-old mom of three told the publication. "Certainly, as a mother, I've made mistakes. We all do, we all will. But the most important thing is to stay authentic and true to yourself and hope that you show by example, not by what you say but by what you do."
Aww! In my opinion, this is the kind of advice that new and expectant parents really need to hear: A big-picture summary of how to make it through this experience with your sanity in tact.
If you remember, Hudson spilled the beans about expecting baby number three back in April with a double-whammy pregnancy announcement and sex reveal via Instagram.
"SURPRISE!!! 🤱 If you've wondered why I've been so absent on my social channels it's because I have never been more sick! It was the most sick first trimester of all my children," Hudson wrote alongside a video of her family popping giant balloons filled with pink confetti.
Hudson also detailed how pretty much everything made her sick during those early months, even though she tried hard to put on a happy face for the world. "We have been trying to keep this pregnancy under the radar for as long as possible but I'm a poppin now! And it's too darn challenging to hide, and frankly hiding is more exhausting then just coming out with it!" she added. "My kids, Danny, myself and the entire family are crazy excited! A little girl on the way 💕"
Not that parents necessarily needed permission to make mistakes — because they happen whether or not we intend for them to — but I absolutely love Goldie Hawn's message acknowledging that all parents make them.
In a nonjudgemental way, Hawn manages to point out that raising small humans is no easy feat, while at the same time reminding us that our children need us to lead by example and not preach to them. And quite frankly, I think her words should be required reading for all parents.