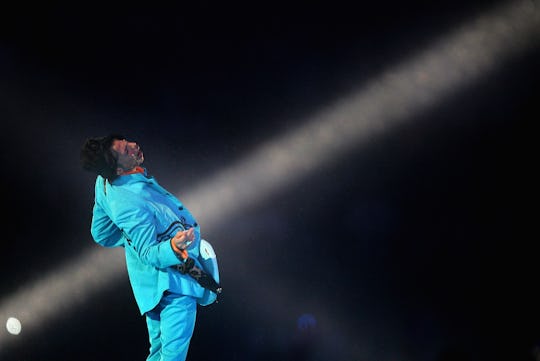 Jed Jacobsohn/Getty Images Sport/Getty Images
Google & 'The New Yorker's Prince Tributes Are Simple, But Moving
Sometimes the simplest gestures say the most. Prince's death rocked the pop culture world on Thursday, but despite the tragedy, it has been touching to see the number of quality tributes popping up to honor the Grammy-winner. Both Google and The New Yorker's Prince tributes this week, for example, took on the challenge of dedicating a statement to the singer — The New Yorker with a cover devoted the Purple One himself — and both succeeded.
The "Red Corvette" singer was found dead at his Paisley Park estate in Minnesota Thursday, April 21. Deputies were called to the artist's recording studio early that morning, the Carver County Chief Sheriff's office told the Associated Press, where they found Prince unresponsive in the elevator. CPR failed to revive him. No official cause of death has been announced as of yet, but a county sheriff's deputy confirmed the death at Prince's compound; Variety also released a transcript of the 911 call from an unidentified male who had found the singer in his Minnesota home.
Prince's surprising death comes less than a week after a medical emergency forced his private jet to land in Illinois. The artist was hospitalized on April 15 after the incident, according to AP. His reps said he was suffering from the flu. TMZ reported that concerts were cancelled because of a drug overdose, although Prince's rep has not confirmed those claims.
The New Yorker cover illustration this week, drawn by Bob Staake, is simple — a purple background with purple raindrops (get it?) — but it encapsulates the mourning many of his fans feel while simultaneously honoring his legacy.
In a fast turnaround, Google debuted its own tribute to the Minnesota rock star in the form of a homepage doodle. A soothing animation of (again) purple rain falls over the well-known "Google" logo, which eschews its traditional primary colors in favor of purple. Basically, it's as though Prince waved a magic wand transforming everything to Prince levels of cool. Click the doodle and you are taken to a search results page filled with Prince music.
During his unparalleled music career, Prince won seven Grammys, an Academy Award for Best Original Song—for "Purple Rain"— and countless other fan and critics choice awards. He recorded a prolific 30 records acting as singer, songwriter, arranger, and multi-instrumentalist on each one.
The pop singer, who was 57 when he passed, will no doubt remain a pop culture icon for a long, long time. Although he will be missed, seeing all of these people and groups reaching out, telling stories, and paying tribute to the talented man is kind of incredible. His reach was expansive and his legacy will be widespread.