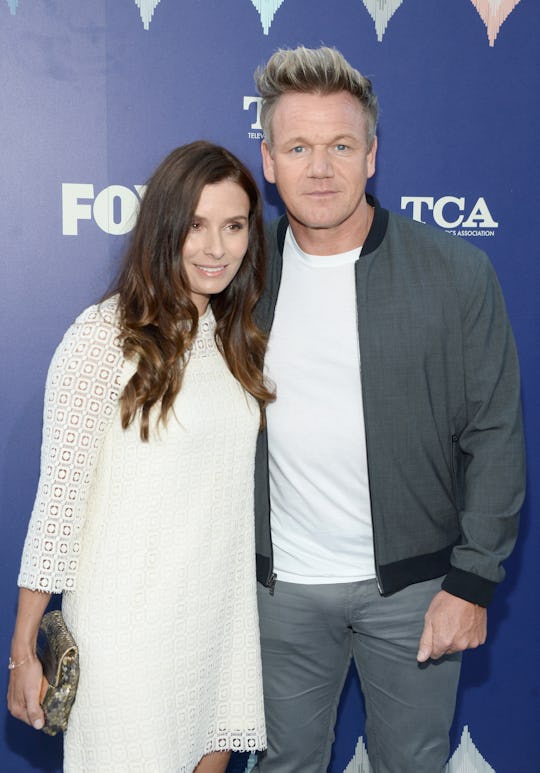 Matt Winkelmeyer/Getty Images Entertainment/Getty Images
Congrats Are In Order: Gordon & Tina Ramsay Have Welcomed Baby #5
After months of anticipation, a new Ramsay has finally joined the family. On Thursday, celebrity chef Gordon Ramsay announced he welcomed his fifth child with his wife Tana, and the name is so perfect for a family in entertainment.
Ramsay wrote on Instagram earlier today, "After 3 BAFTAs and one Emmy... finally we have won an Oscar. Please welcome Oscar James Ramsay, who touched down at 12:58 today for some lunch!" He shared a carousel of photos of himself and his wife holding their new son, and cuddling with him in the hospital.
It was only earlier this year — Jan. 1, to be precise — that the Ramsays even announced they were expecting again, as TMZ reported.
"Exciting news! Happy new year from all the Ramsay's," Gordon wrote succinctly on a story, revealing Tana's stomach. As Access reported, Oscar is their fifth child, whom they are welcoming together a full two decades after they welcomed their first. Their oldest daughter, Meghan, turned 21 this year. It's undoubtedly a super special time for the family, who singlehandedly prove that it is never too late to add to your brood, or even start your family in the first place.
Though he's a tough cook critic on TV, Ramsay is actually a really mindful and strategic father.
In fact, he's even made headlines for his sometimes "controversial" (but none-the-less effective) parenting principles, particularly when it involves his and his wife's extraordinary wealth. The Telegraph reported that he said in an interview that money is not his "number one objective," and that's reflected in the way his kids are brought up.
He went on to say that he won't be leaving his fortune to them in his will, and explained his practices when it comes to ensuring that they stay grounded.
"Last time we went to Royal Hospital Road [Ramsay's three Michelin starred flagship restaurant in Chelsea] was for Megan's 16th birthday, and that was the first time we've ever eaten there with the kids. They have served the Chelsea pensioners there for Christmas lunch, but not eaten there," he explained, according to Travel + Leisure. "They don't sit with us in first class. They haven't worked anywhere near hard enough to afford that. At that age, at that size, you're telling me they need to sit in first class? No, they do not. We're really strict on that."
Not everyone agrees with his approach, but Ramsay doesn't seem to be bothered by it. In an interview with Andy Cohen, Bravo reported he said: "I gotta keep it real with the kids. And also I just think getting kids at the age of 5, 6, and 7 used to first class in those big seats — they don't need the space," regarding why he doesn't seat them in first class. "No, I'm not embarrassed. And secondly, it is my wife and [my] choice to discipline them and keep them real."
It's admirable that Ramsay sticks to his parenting strategies regardless of what criticisms he'll endure, and focuses on keeping his kids humbled and as normal as possible. When you grow up in a particularly privileged environment, it can be challenging to ensure that your kids don't begin to develop a superiority complex. But the Ramsays seem to totally have it under control.
It's exciting to see them welcoming yet another baby to their clan, so many years after the first. It's proof yet again that there's no one right way to build your family, and that it's really never too late to have another one if you really want. Our best wishes go out to Gordon, Tana, and all of Oscar's new older siblings.