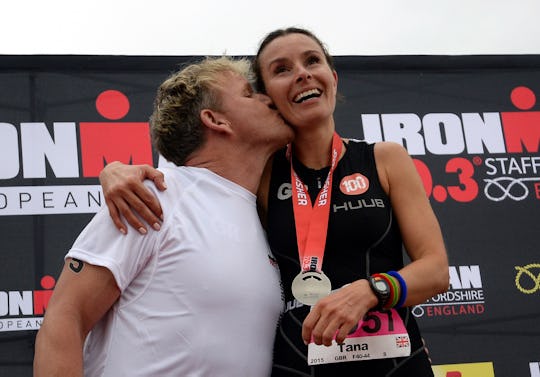 Nigel Roddis/Getty Images Sport/Getty Images
Gordon Ramsay & Wife Tana Are Expecting Their 5th Child, Another Adorable Tiny Chef
On The Late Late Show with James Corden last night, the world's most famous celebrity chef revealed some surprising news: Gordon Ramsay is expecting his fifth child with wife Tana. He announced it casually: when host James Corden asked him a question about raising four teens under the same roof, Ramsay replied, "Uh, well, three girls and a boy." And then he ever-so-nonchalantly dropped the bomb: "And one more on the way!"
He didn't stop there, either, luckily for fans in the audience. "I'm a little bit nervous," Ramsay admitted, smiling. He then revealed the baby's due date and gender without any prompting, to the delight of any fans who are used to celebrities' slow unveiling of baby news:
September. Obviously, I'm happy with another girl. Four girls. Four weddings. Four Sweet Sixteens. Four boyfriends.
He also reported that Tana was doing well. Ramsay and Tana, who have been married for two decades now, are already parents to four children: 17-year-old Megan, 16-year-old twins Jack and Holly, and 14-year-old Matilda. Matilda (also known as Tilly) has already followed in the footsteps of her famous father and has her own cooking show, Matilda and the Ramsay Bunch.
Ramsay seems like a great dad to his little troop of kids, and told People in 2008, "I'm [my kids'] best friend." Ramsay also told Jimmy Kimmel last year that his children are great cooks (it's not just Tilly!):
They're pretty decent little chefs. Teaching them how to cook properly, I think, was fundamental. Weekends now [are] a lot more competitive, 'cause they cook for us.
Sounds like a pretty decent parenting tip/life hack: if you make cooking fun for the kids, they just might take the duty off your hands now and again. One thing Ramsay's children haven't adopted from him, however, is his penchant for swearing in the kitchen and on-air. "I said, 'Look, cursing is not smart, it's an industry language and sometimes Daddy lets it slip... 20 times a day,'" he joked with Kimmel. "They don't curse."
It sounds like another miniature chef will be added to the Ramsay bunch soon, and we're looking forward to hearing the stories. In the past, Ramsay has been happy to have his family join him on screen: Matilda has joined him on MasterChef Junior as a guest judge, and Jack has shown his face on MasterChef. Hopefully we'll be seeing a new, pint-sized Ramsay make a guest appearance with her dad on his cooking show soon.