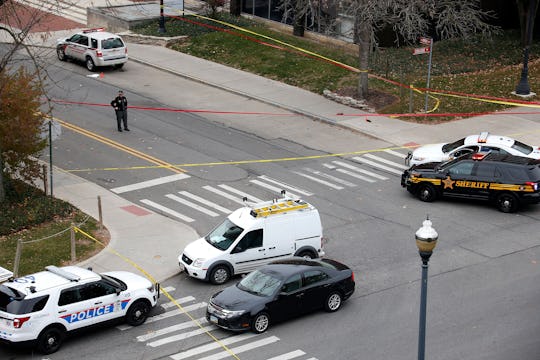 Kirk Irwin/Getty Images News/Getty Images
Gov. Kasich's Response To Ohio Attack Reminds Americans That They Will Heal — Together
On Monday, the first day back from Thanksgiving break, an Ohio State student reportedly crashed his car into a group of pedestrians on the Columbus campus. At least nine people have been hospitalized after the alleged suspect, an 18-year-old student named Abdul Razak Ali Artan, allegedly rammed his car into the group of students and then slashed several people with a butcher knife. The startling news shook the nation to be sure — and Ohio Gov. John Kashich's response to the Ohio attack reminded students, as well as Americans everywhere, that trying times like today can make a community stronger in the long run, despite the frustration, fear, and anger many might feel initially.
"The campus is calm, people are getting their confidence back, and Ohio State will be stronger having come through this," Kasich said at a press conference on Monday, according to ABC News. He continued:
We will have learned a lot and I can promise you from the president of our university from the people who run security here, they will even up their game beyond what is really just an unbelievable, amazing, and outstanding and heroic performance on the part of our first responders.
The Ohio governor thanked first responders for how quickly they were able to put an end to the incident. "It's remarkable what these first responders did," Kasich said, adding that Monday's attack will be able to serve as a lesson for future training and coordination for police and campus security.
According to CNN, the alleged attacker was fatally shot by 28-year-old police officer Alan Horujko, bringing an end to the frightening situation in less than two minutes. The officer's action happened after the 18-year-old suspect — who was reportedly a Somali-born United States resident — allegedly failed to comply with orders to put down his weapon.
While many facts are still in the process of being verified — such as the motive and whether the attack is terror-related — CNN reports that one of the nine victims from the attack is in critical condition. The Associated Press reports that those injured in the attack included that an Ohio State faculty member, four graduate students and three undergrads.
"Victim injuries include stab wounds, injury by motor vehicle and other injuries that are being evaluated," Ohio State said in a statement on Monday. "Our thoughts and prayers are with those injured and their families."
The university, as well as the nation, will certainly need time to heal from yet another attack on an American campus. In the meantime, however, it's important to consider only verified facts, rather than delve into speculation behind what led the alleged attacker to do what he did. Until all of the "ifs" are verified or debunked, Kasich's message to come together serves as an important reminder that Americans, although not immediately, will heal from this jarring incident.