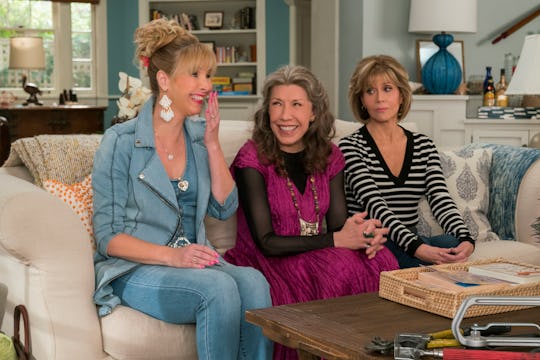 Melissa Moseley / Netflix
You Won't Believe Who's Joining The Cast Of 'Grace And Frankie' Season 5
Great news, Grace and Frankie fans! The popular Netflix series has been renewed for another season. That's right, Grace and Frankie Season 5 is officially happening and an amazing new guest star is joining the show.
Netflix announced on Wednesday that the series — which follows Grace (Jane Fonda) and Frankie (Lily Tomlin) after their husbands divorce them to marry each other — will continue on for another season. Along with this great news it was also shared that RuPaul will be guest starring as well. He'll be playing Benjamin Le Day, a "formidable and quick-witted adversary who faces off with Grace and Frankie," according to Variety. It wasn't said how many episode RuPaul will be appearing in, but hopefully we'll get to see him throughout the entire season. Because, come on — it's RuPaul!
This news comes on the heels of a great fourth season for the hit Netflix series, which included guest star Lisa Kudrow. Kudrow played Grace's long time manicurist, Sheree, who turned Grace and Frankie's duo into a trio, at least for a while. The fourth season also saw the return of guest star Peter Gallagher, who began as Grace and Frankie's rival in the adult vibrator business, but quickly became a love interest for Grace.
Although RuPaul is most well known for hosting and executive producing RuPaul's Drag Race, which he's won an Emmy for, he's also a great actor. He's had cameos in a number of films and TV shows since the '90s. Most recently he guest starred on another Netflix series, Girlboss, which unfortunately was short lived. He also loaned his voice to the popular Netflix cartoon series BoJack Horseman, and has recently appeared on Adam Ruins Everything and Broad City.
Therefore, RuPaul is more than ready and capable to take on this new role, and it'll be great to see his character go head to head with Grace and Frankie. Although hopefully they'll go from adversaries to actual friends and RuPaul's character can stick around for as long as possible.
The fifth season will begin streaming sometime in 2019, though as of now there's no official release date. Until then, if you haven't already watched Season 4, now's the perfect time. Besides the incredible guest stars, the new series was just as funny as the three that came before it.
Grace and Frankie continued to pursue their sex toy business, while also dealing with the constant changes going on in the lives of their families. For Frankie, that meant the introduction of her first grandchild into the world, and if you're a fan of the show, you know just how excited Frankie gets about babies. So when it's in regards to her own grandchild, the excitement was doubled.
Besides that, Grace and Frankie were also forced to face some of the realities that come with getting older. For Grace this came in the form of severe pain in her knees and for Frankie this was her continued struggles with hearing. But just like with any obstacle, these characters proved once again that they can overcome anything as long as they're together.
Meanwhile, their exes were going through some marital struggles and attempted couples therapy. If you haven't seen it yet, I'll let you discover for yourself how that goes. However, I will say that it had some very interesting results.
To learn more about what Grace and Frankie get into, you'll just have to watch the fourth season, which is currently streaming on Netflix.
Check out Romper's new video series, Romper's Doula Diaries:
Watch full episodes of Romper's Doula Diaries on Facebook Watch.