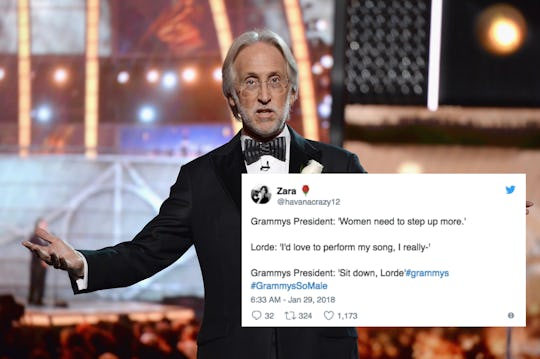 Grammys President Says Women Need To "Step Up" To Win More Grammys, & Twitter Is Furious
During last night's Grammy Awards, only one major award was presented to a woman — Alessia Cara was crowned Best New Artist. Many viewers took to Twitter to point out how problematic it was that the Grammys only awarded one woman during the live broadcast (several other women were awarded Grammys this year, just not for any of the "major" awards during the live broadcast). However, Neil Portnow, president of the Recording Academy (the organization that produces the Grammys) also shared his opinions on the topic, pointing out that women need to "step up" if they want to win more awards.
Portnow spoke Variety about the issue (or as he would probably call it, the non-issue):
It has to begin with… women who have the creativity in their hearts and souls, who want to be musicians, who want to be engineers, producers, and want to be part of the industry on the executive level… [They need] to step up because I think they would be welcome.
By telling women that they need to "step up," Portnow is suggesting that the male-dominated Grammys aren't a symptom of an industry plagued by sexism, but that women simply aren't working as hard as men are, or that the ones nominated weren't as talented as the men in that same category.
He continued by suggesting that the onus is on the music industry to create opportunities for everyone who wants to be involved. However, it sort of reads as backpedaling from his earlier statement.
I don't have personal experience of those kinds of brick walls that you face but I think it's upon us — us as an industry — to make the welcome mat very obvious, breeding opportunities for all people who want to be creative and paying it forward and creating that next generation of artists.
Grammys producer Ken Ehrlich also commented on the matter for Variety. "It's not for me to talk about," he responded, when asked about the lack of women in the award show. "I produce the TV show." The outlet also asked Ehrlich if he thought it was a mistake that Lorde did not get to perform even though she was nominated for Album of the Year, and he supplied an equally vague answer. "I don't know if it was a mistake. These shows are a matter of choices," he said. "We have a box and it gets full. She had a great album. There's no way we can really deal with everybody."
When viewers realized that Cara was the only woman to be presented with an award during the live show, the hashtag #GrammysSoMale began to trend on Twitter. It was immediately reminiscent of #OscarsSoWhite, which April Reign created in response to a mostly-white list of Oscars nominees a few years ago.
Some pointed out the irony in Ed Sheeran's song "Shape of You" beating Kelly Clarkson, Pink, Lady Gaga, and, especially, Kesha.
Others noted how Lorde was reportedly not offered a solo performance slot, even though everyone else nominated in her category was.
Some referenced a pretty staggering statistic (including Lorde's mom): That only 9 percent of all Grammy nominees in the last five years have been women.
And others were just fed up.
However, some critics were not on board with #GrammysSoMale, pointing out that maybe this year the better artists just happened to be men.
However, critics of the hashtag are missing the point that it's important for everyone to be represented in large, influential events such as the Grammys, and that the way to do this is by supporting minorities. As many pointed out, it's awesome that so many men of color were recognized at last night's show. But wouldn't it be even better to have an awards show where people of all genders, ethnicities, and sexual orientations were represented? In order to elevate minorities, we have to point out which ones are being left in the dust. So by using the hashtag #GrammysSoMale, people are emphasizing the need to support women in the music industry.
Check out Romper's new video series, Romper's Doula Diaries:
Watch full episodes of Romper's Doula Diaries on Facebook Watch.