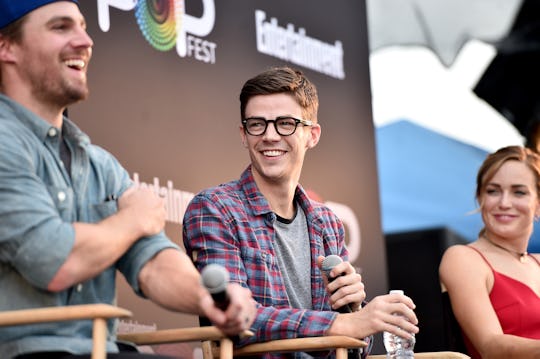 Alberto E. Rodriguez/Getty Images Entertainment/Getty Images
Grant Gustin Is Engaged To LA Thoma!
Love is in the air for former Glee star and current star of The Flash Grant Gustin and his longtime girlfriend, LA Thoma. Fans who have watched Gustin grace their TV screens from one cult classic show to the next could not be more excited for the happy couple, as Gustin and La Thoma got engaged over the weekend, according to E! News. That's right — sorry everyone, but Gustin is officially off the market forever.
The Flash star announced his engagement on Instagram, letting a snapshot of the two do all the talking. On Saturday, Gustin posted the photo on Instagram of himself and Thoma smiling from ear to ear as they sat on the beach. The photo looks like any other ordinary beach photo — that is, until you see the giant rock on Thoma's finger. That's an engagement ring, alright.
The Instagram, which was posted to Gustin's account without a caption, says everything that it needs to: Gustin and Thoma are clearly engaged and it rightfully looks like the most exciting thing in the world to happen to them. According to E!, a friend of the couple, Leela Rothenberg, confirmed the engagement on her own Instagram. "DOUBLE INSTA FOR LOVE!!! MY HEART IS EXPLODING!!" Rothenberg captioned the photo. (My heart is exploding, too.)
Gustin's real life is mimicking the one he plays on screen. Spoiler alert: in a recent episode of The Flash, Gustin's character, Barry Allen will soon wed the character Iris (according to Entertainment Weekly, the characters got engaged in an episode at the beginning of May). Maybe this made Gustin's engagement to Thoma a lot easier, given that he had some practice so close to popping the big question.
Just like their simple and low key engagement announcement, there is not much information about Thoma online (hard to believe in this day and age) or information about Thoma and Gustin's relationship. Gustin tends to remain quiet about his private life, according to E!, keeping most of his relationship with Thoma under wraps. The only real glimpse that fans get of the couple is on their respective Instagrams, where they post adorable photos of themselves hanging out and doing normal things, like relaxing and wearing face masks, together.
Aside from friends and fans sending the couple well wishes, according to People, Gustin's Flash and Glee co-stars took to Gustin's photo to congratulate Gustin on his engagement. "Huge congrats!!!" Candice Patton, who plays Iris on the CW show, wrote in the comments.
The newly engaged couple could not look any happier or more in love at this moment. Congratulations to them on their new chapter!