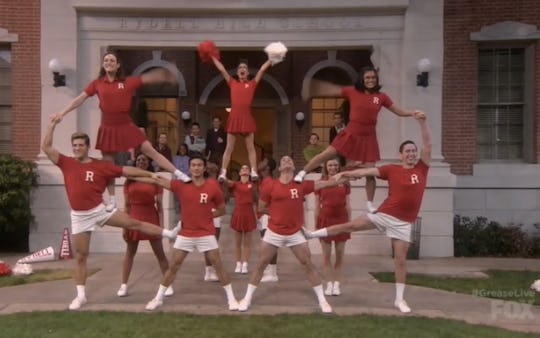 'Grease: Live!' Features Male Cheerleaders & That's One Reason Why It's Progressive
FOX's Grease: Live! has definitely given some of its '50s stereotypes a more progressive makeover, and Rydell High looks more 2016 than 1950. While the musical made the risky decision to keep the infamous "Did she put up a fight?" line in "Summer Nights," the live TV musical version has a much more diverse cast, and the Rydell's cheerleading team even included male cheerleaders. Grease: Live! has been much more progressive than the 1978 film before it.
It might be slightly revisionist to make a 1950s high school more inclusive and diverse than it might have been, but it's added a new twist to Grease: Live! Female mechanics, male cheerleaders, and a cast full of people from diverse backgrounds is a big step up from Grease, and while it's anachronistic for the time in which the story is set, it does send a much better message to today's viewers. It also proves that the television industry hasn't stayed in the '50s, which is great to see after a couple of years of seeing minorities fight for bigger roles.
The internet is loving it, too:
Sure, there still might have been some moments that ignited important consent conversations later in the show, but it's refreshing to see that Grease: Live! at least understands that even though the musical is set in the 1950s, it's still every much 2016.