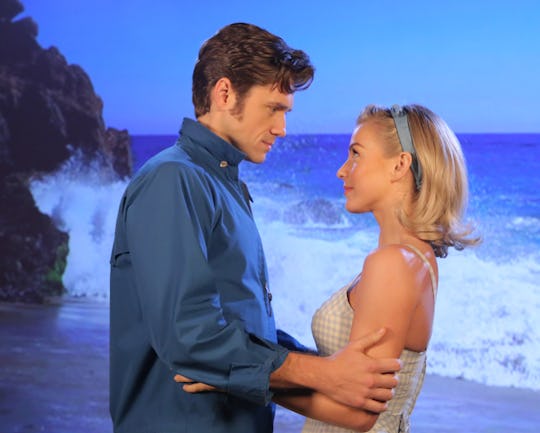 Fox
'Grease: Live!'s "Summer Nights" Scene Failed To Make One Really Important Change
The country was collectively hand jivin' Sunday night as Grease: Live! aired on FOX. Even though there was an air of sadness prior to the event — Vanessa Hudgens' father died a day earlier and the actress publicly dedicated her performance to him and his memory — Grease: Live! was a vibrant, high-energy celebration of youth, music and empowerment. But Grease: Live!'s "Summer Nights" scene didn't include one important change, and that wasn't lost on fans.
Prior to the live performance — which was thankfully progressive in many other ways (just see its awesome diverse cast!) — many future viewers and Grease fans were hoping that the writers of the revived, television performance would cut some offensive lyrics from the song and scene; mostly the "did she put up a fight?" line. Sure, it helps the song rhyme, but it also promotes (or at least strongly normalizes) violence against women. It wasn't appropriate all those years ago and it certainly isn't appropriate now, in 2016. But the Internet noticed that the show didn't make the change — a change that could have been a strong statement about relationships, sexual assault, and what we should be considering "normal."
The iconic and since-scrutinized scene was originally performed by John Travolta, Olivia Newton-John, and a star-studded ensemble (aka Rizzo turned First Lady, Stockard Channing). Despite the fact that there were some seriously questionable lyrics in the song (again: "Tell me more, tell me more, did she put up a fight?"), the scene became an all-time fan favorite, recreated over and over and over for a handful of generations. Which, sadly, is a representation of the time period: The song hit no. 5 on the Billboard Hot 100 and spent seven weeks at No. 1 on the U.K. charts, according to SongFacts.com.
Those lyrics — especially "did she put up a fight?" — represent a rape culture that still exists today, so it was surprising to see the writers and directors of this live, televised remake include the line.
This missed opportunity wasn't lost on viewers, either. Many took to twitter to voice their disapproval over the kept lyrics. Here are just a few of the many reactions:
Hopefully the feedback will guide TV writers and the entertainment industry in general toward more progressive choices. The "Summer Nights" line aside, Grease: Live! was refreshingly inclusive and open-minded in other areas — hiring a diverse cast, showcasing male cheerleaders, and keeping Rizzo's oft-discussed pregnancy storyline. It's time healthy romantic relationships, in which both partners and their wishes are respected, become the social, cultural, and media norm.