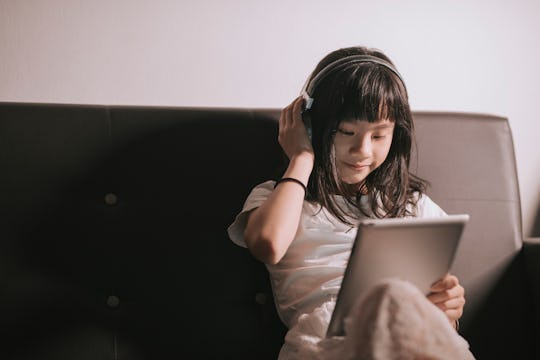 chee gin tan/E+/Getty Images
Great Mystery Podcasts For Kids That Are Just Spooky Enough
Being a woman in her 30s, you can probably guess how much I love true crime and mystery podcasts. My kids are also huge fans of podcasts, but they're a bit young for the serial killer genre. However, there are great mystery podcasts for kids that are just as engaging and completely age-appropriate.
Mystery podcasts are great to listen to while doing chores, creating art, or while you're driving. They are such a part of the routine of my family's day, that when there isn't one playing, things just seem off. Like the house or car is simply too quiet, and frankly, uninteresting. While my older child is a fan of The Daily and Pod Save America, my 9-year-old still prefers her podcasts to be a bit sillier, and a bit less mature.
And she loves a good whodunnit. Great mystery podcasts keep her mind running when she would otherwise be tethered to a device, or shrugging off cleaning her room. They range from spooky ghost stories to girls with magical hoverboards trying to figure out who they are. Unlike mystery podcasts for adults, almost none of them involve dead bodies being found in unlikely places — which might be jarring to podcast listeners in my cohort. That's OK, though. These are training podcasts, and there's plenty of time for our kids to work their way up the murder ladder.