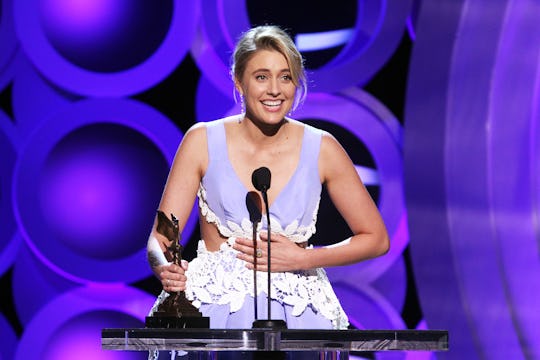 Tommaso Boddi/Getty Images Entertainment/Getty Images
Greta Gerwig Was Snubbed For Best Director, & Twitter Feels Betrayed
Anyone getting into show business knows it's a hard road full of rejection, but that doesn't make that rejection hurt any less. It's hard for fans, too, especially when they were expecting their idol to make history. The fifth woman to have ever been nominated for a Best Director Oscar, Greta Gerwig, was snubbed on Sunday night, and people were really disappointed. This was far from the first time the young writer-director has heard the word no; according to CNBC, she was turned down for every single graduate program she applied to, but she still managed to claw her way to the top — well, almost to the top. Still, being nominated is a pretty big honor in its own right, especially for a newcomer. Just try telling that to her fans, though.
Beyond the obvious reasons people wanted her to win — they like her, they like her movie — this was also a potentially huge moment for women. Gerwig is only the fifth woman to ever receive a nomination for Best Director, and only one woman, Kathryn Bigelow, has ever won. On top of that, at only 34, Gerwig would have been one of the youngest directors to win, and she's the first woman to get a nomination for her debut film.
Gerwig wasn't the only director who made history on Sunday night. Jordan Peele was the first Black person to receive nominations for Best Picture, Best Directing, and Best Original Screenplay in one year, and only the third person ever to do so. He was also just the fifth Black director to be nominated. In the end, though, the award went to Guillermo del Toro for The Shape of Water, making him only the third Mexican director to win, and the fourth to be nominated.
Lady Bird fans are still pissed, though, and it's going to be a while before they get over that. Take comfort, friends, in knowing that the Academy's choices rarely represent the views of the movie-going public. What even is The Shape of Water? A love story about the creature from the Black Lagoon? Was it even in theaters? Honestly, I'm asking because I saw Get Out on opening night, Lady Bird star Saoirse Ronan hosted Saturday Night Live in December, and I literally never saw one trailer for The Shape of Water.
Still, Gerwig will have that "Oscar-nominated director" prefix attached to her name for life, at least until she can swap it for "Oscar-winning director," and that's nothing to sneeze at.
And she still got her moment when presenter Emma Stone referred to the five nominees as "four men and Greta Gerwig," holler!
Let's also not forget that she's still really young, which means that there's still plenty of time for her to pick up that win. And luckily, since she's a director and not an actor, she doesn't have to worry about her expiration date being much, much earlier than that of her male counterparts, right?
And it's not all bad news for those who were rooting for a diversity win tonight; Peele did win for Best Original Screenplay, the first black writer to achieve the honor. If you still haven't seen Get Out, which is over a year old right now, please text your mom or your best friend to ask for their HBO login immediately, because it's streaming right now.
And if you, like me, still haven't gotten around to watching Lady Bird, it's available to rent for $5.99 on Amazon. Yes, spending money on streaming sucks, but come on, Gerwig just lost out on three Oscars (she was also up for Best Original Screenplay and Best Picture); you can spare a few bucks.
And for those who were hoping that PricewaterhouseCoopers screwed up again this year...
I'm afraid not. Big hugs, guys.
Check out Romper's new video series, Bearing The Motherload, where disagreeing parents from different sides of an issue sit down with a mediator and talk about how to support (and not judge) each other's parenting perspectives. New episodes air Mondays on Facebook.