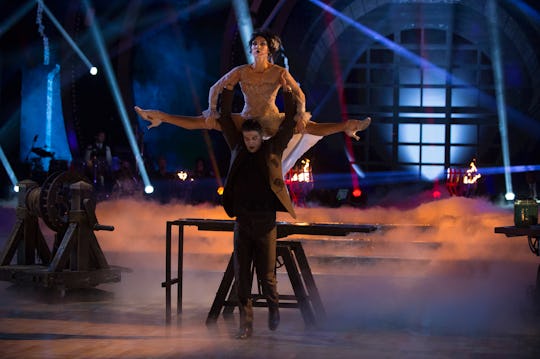 ABC/Eric McCandless
'DWTS' Had A Double Elimination & Twitter's Not Thrilled With Results
Now hear me out: I love me some Grocery Store Joe (Amabile). Sorry, but I do. I became an insta-fan after his brief appearance on Becca Kufrin's season of The Bachelorette and have been enamored since he left Bachelor in Paradise. Now, as he tries really hard each week on Dancing With the Stars, I can't help but root for him. But here's the thing — Grocery Store Joe made it to the semi-finals on DWTS' "Country Night" and Twitter has mixed feelings about it since, you know, the dude can't actually dance.
After Monday night's country chic double elimination that sent home DeMarcus Ware (with pro Lindsay Arnold) and John Schneider and (with pro Emma Slater), there were still talented folks left in the waiting pool. Luckily, Evanna Lynch (and pro Keo Motsepe) were revealed safe and the world let out a collective sigh of relief. But shockingly, Joe and pro, Jenna Johnson, weren't in the bottom and the internet has some strong feelings. Sure, Joe got his first '8' of the season last week, and he is improving from earlier weeks, but it's clear he still can't keep up with the others. For example, Monday's tango set to "Burning Man" (by Dierks Bentley ft. The Brothers Osborne) got mixed reviews by judges. Bruno Tonioli said, "Imagine if Mad Max had to tango across bumpy roads, into the wilderness, surrounded by wildfire, into an explosion! It looked exactly like that," while Judge Carrie Ann Inaba referred to the former grocery store manager an "anomaly." The pair walked away with a mere 21 out of 30 and can already hear the Tweets chirping.
Along with all that, Team "Joe Down" — led by team captain, Joe — hit the floor with a group hoedown to Luke Bryan's "Country Girl." There was a lot of table dancing, a mechanical bull situation, and Joe still trying really hard. Bless his heart. The effort garnered the team 26 out of 30 which wasn't enough to beat the other group, Team HayNow, led by Bobby Bones. Even still, Joe's scores are regularly among the lowest and he's still winning somehow. I love him but it's not me, I swear.
Double elimination aside, you already know Joe can't hang with the perfect scores of Evanna and Juan Pablo much longer. Twitter's at odds. Some still want the Bachelor alum to go all the way despite his lack of, er, technique, but others think he needs to go, STAT.
I mean, seeing as Merriam Webster's definition of "schlep" is "to proceed or move especially slowly, tediously, awkwardly, or carelessly," this is pretty accurate.
With nearly 16k followers on Twitter, Bachelor Nation is comprised of Bachelor, Bachelorette and Bachelor in Paradise fans across the globe. "Strong AF" doesn't even cover it.
No need to be angry. If you're one of the many who don't agree with the results, then use your voice and vote. If you vote and he still advances after another rough routine, at least you tried?
Truer words have never been spoken (in reference to Grocery Store Joe and America in the same sentence). Here's what happens when you don't cast your vote — results you never expected.
And then there are the ones who will vote until their fingers fall off, the dedicated fans who keep Joe afloat — even if he secretly wishes you wouldn't. Sorry Joe — you're going all the way whether you want to or not.
Whether you're Team Joe or not, you can't pull the Bachelor Nation train from the tracks. It just isn't done until they decide it's done. So honestly, at this point? Either cast your votes elsewhere or accept that the show's least experienced dancer may accidentally get that coveted Mirrorball after all.