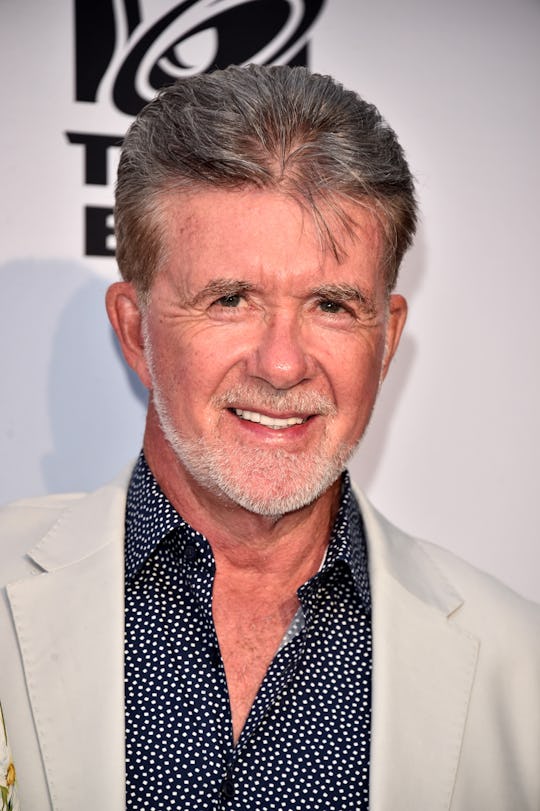 Alberto E. Rodriguez/Getty
'Growing Pains' Costars React To Alan Thicke's Death, Proving How Much He Was Loved
In the wake of the news that beloved actor Alan Thicke has died at age 69, the world in general is mourning his loss. Some of the Growing Pains co-stars have reacted to Alan Thicke's death, proving just how much the legendary actor was loved. While no one will be more distressed than his family and close friends at this time, his co-stars on the show worked with him for eight years, and are surely grieving the loss of such a great actor and charismatic persona.
Thicke is best known for playing the quintessential TV dad on Growing Pains. His character was a psychiatrist named Dr. Jason Seaver who worked from home while his wife went back to work as a reporter. Dr. Seaver balanced his work and caring for his four children often to hilarious yet heartwarming effect. The show was also the first major role for a young Leonardo DiCaprio, who was at this time more adorable than ever. Everyone who watched the show wanted to be a part of the Seaver family, and everyone felt like Jason Seaver was a little bit like their dad too. In the years following Growing Pains, Thicke continued to act on television and in movies, with recent cameos on Fuller House, This Is Us, and on his reality series, Unusually Thicke. So it's no wonder that he will be missed.
Since his death, Kirk Cameron has posted a very touching tribute on Instagram to his on-screen father with a throwback photo to their time together on the series.
Additionally, Thicke's on-screen TV daughter, Ashley Johnson, also took to social media later that evening to speak out about this sudden tragedy. Though the post has since been removed for some reason, the actress had shared an image of her and Thicke along with a caption of a quote from Washington Irving which said: "There is a sacredness in tears... They are the messengers of overwhelming grief, of deep contrition, and of unspeakable love."
Suffice to say, there's no denying just how loved Thicke was by his co-stars even after all of this time. The actor reportedly passed away following a heart attack he incurred while playing hockey with his son. He was taken to Providence St. Joseph's Medical Center in Burbank, California where he died. But while he may be gone, it's reactions like these that prove he won't soon (or ever) be forgotten.