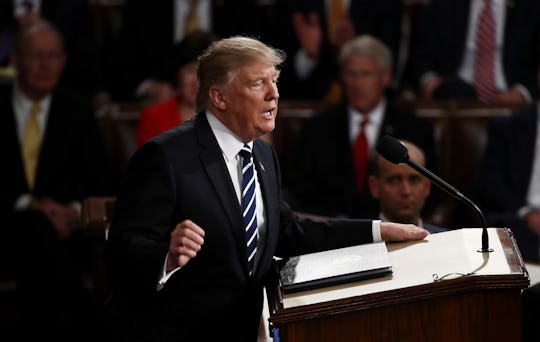 Win McNamee/Getty Images News/Getty Images
Guadalupe Garcia De Rayos' Children Have A Message
During Tuesday night's joint address to Congress, Donald Trump had some harsh words about how he plans on handling immigrants that are already in the country. What he might not have known is that there were two teenage faces in the crowd who were separated from their mother due those same strict immigration policies. Guadalupe Garcia de Rayos' children responded to Trump's speech on Wednesday and they're not upset — they're terrified.
Angel and Jacqueline Rayos-Garcia told CNN this week that they didn't understand how Trump could talk about deporting the "bad" immigrants, when they know that their mother wasn't bad at all.
"It was sad how people agreed with him. They're not in our position," Jacqueline said. The two teens were invited by their Democratic lawmakers, Arizona Reps. Raul Grijalva and Ruben Gallego, after their mother's case drew nationwide attention in early February when protestors tried to block an Immigration and Customs Enforcement (ICE) van that had Garcia-Rayos in it. Garcia-Rayos came to America illegally with her parents in the mid-1990s when she was 14 years old.
She was once arrested in a workplace raid and was thus convicted of criminal impersonation (because she was working using a fake social security number). She was placed on court supervision and reported to ICE officers yearly. But because of Trump's strategy of deporting immigrants with criminal records, her name came up to the top of the list.
Both of her children were born in the United States and are currently with their father. But Garcia-Rayos watched the address back in Mexico. She told CNN that she teared up with she heard Kentucky Gov. Steve Beshear say their names to denounce the policy and that she was hoping to catch a glimpse of them on TV (they weren't depicted on screen). Angel, 16 years old, told Mother Jones that his mother was proud. "She told us that she's so proud of us and that we need to keep doing what's right not only for her, but for the community and for the thousands of families are in our position," he said.
The teen added that he'd like to have a word with Trump:
I'd tell him that he needs to stop separating families. There needs to be a change and that we're not scared. We came from Mesa, Arizona, just so he can see our face, the face of suffering families of the mass deportations that he is doing. He's not just targeting criminals like he says. He's targeting everyone in general.
Garcia-Rayos checked in for eight years and obeyed the law. If there was a simpler path to citizenship or a work visa for women like her, theoretically she wouldn't have needed to use a fake Social Security number to work. Sure, she broke a law, but she doesn't match the description of the immigrants Trump was stoking fears about on Tuesday night. She was not dangerous or violent — she's a hardworking mother who wanted the best for her family.
There has to be a better way to reform our immigration policies other than separating children from their parents. For now, it doesn't appear to be on Trump's agenda.