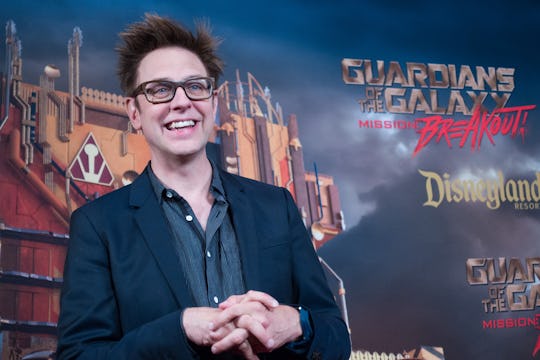 Handout/Getty Images Entertainment/Getty Images
Guardians Of The Galaxy Director James Gunn Has Been Fired & Parents Are Reacting
The next installment of the Disney and Marvel franchise, Guardians Of The Galaxy, is going to get a new director very soon. After "offensive tweets" written by Guardians Of The Galaxy and Guardians of the Galaxy Vol. 2 director James Gunn, surfaced this past week, according to Deadline, some fans weren't too pleased. And on Friday, it was announced that Guardians Of The Galaxy director James Gunn had been fired from the third installment because of his old tweets — and people are pretty split on this action. A representative of Gunn's and Marvel Studios did not respond to Romper's request for comment at the time of publication.
Words have an impact — even the things people post to Twitter from ages ago. This was made apparent this past week, according to Variety, when several inappropriate tweets of Gunn's dating between 2008 and 2011 resurfaced online. These tweets reportedly ranged in subject from jokes about rape and pedophilia, according to Variety, to one reportedly about being touched in his "silly place," according to Fox News, and were reportedly recirculated by "Trump supporters" online, according to Vulture. Chairman of The Walt Disney Studios, Alan Horn, said in a statement sent to Romper:
The offensive attitudes and statements discovered on James' Twitter feed are indefensible and inconsistent with our studio's values, and we have severed our business relationship with him.
Gunn apologized on Twitter on Thursday night for these tweets. "Many people who have followed my career know when I started, I viewed myself as a a provocateur, making movies and telling jokes that were outrageous and taboo," Gunn tweeted. "As I have discussed publicly man times, as I've developed as a person so has my work and humor."
In his apology, Gunn admitted to making inappropriate jokes in the past, but assured fans that the person who wrote those tweets almost 10 years ago is not the same person he is today. "Anyway, that's the completely honest truth: I used to make a lot of offensive jokes," Gunn concluded. "I don't anymore. I don't blame my past self for this, but I like myself more and feel like a more full human being and creator today. Love you to you all."
In addition to his apology on Twitter, Gunn reportedly issued an official statement on Friday afternoon, according to Mashable:
My words of nearly a decade ago were, at the time, totally failed and unfortunate efforts to be provocative. I have regretted them for many years since — not just because they were stupid, not at all funny, wildly insensitive, and certainly not provocative like I had hoped, but also because they didn't reflect the person I am today or have been for some time.
Regardless of how much time has passed, I understand and accept the business decisions taken today. Even these many years later, I take full responsibility for the way I conducted myself then. All I can do now, beyond offering my sincere and heartfelt regret, is to be the best person I can be: accepting, understanding, committed to equality, and far more thoughtful about my public statements and obligations to our public discourse. To everyone inside my industry and beyond, I again offer my deepest apologies. Love to all.
People on Twitter were split about this decision to fire Gunn from the third installment of Guardians of the Galaxy — especially since Gunn directed the first two installments of the film, according to The Hollywood Reporter. Some people agreed with the decision to remove Gunn from this next film in the Guardians of the Galaxy franchise.
While others were very upset by the news of Gunn not being able to return to the Guardians of the Galaxy franchise.
Regardless of political affiliation and sides, the things that Gunn reportedly joked about are not things that should be joked about. Although some people might be sad to no longer see Gunn's name attached to the new Guardians of the Galaxy film, they have to respect Disney's decision and the reasoning behind it. When it comes to sensitive subject matter like the things that Gunn tweeted about, it's not right to blame one party or another. As one Twitter user pointed out, those are the kinds of things that shouldn't be joked about, regardless of who you are.
Now that Gunn is no longer attached to the third installment of Guardians Of The Galaxy, the future of the film is a little unclear, according to USA Today. Guardians Vol. 3 was supposed to start shooting this upcoming January, according to USA Today, with Gunn attached to write the film, as well. But based on Friday's decision, this won't be the case.
Words matter — and Disney's decision on Friday highlights exactly why.