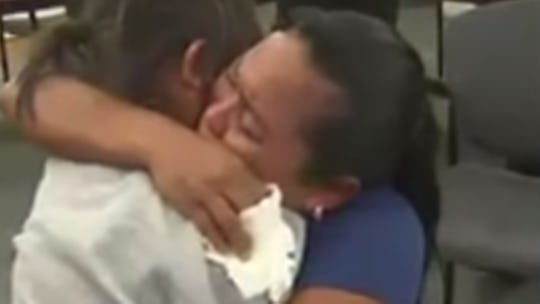 MSNBC/YouTube
A Mom Begs Her Daughter For Forgiveness After ICE Separated Them For 55 Days
The Trump administration's cruel, heartless policy of separating migrant children from their parents at the border has supposedly come to an end, but the devastating effects are still being felt as an unknown number of families remain kept apart. If the concept of having your child ripped from your arms and taken away to an undisclosed location feels a little abstract, just watch this Guatemalan mother weep as she's reunited with her daughter after 55 days of separation. It's almost too tough to bear.
According to CNN, Angelica Gonzalez-Garcia and her daughter were fleeing "severe abuse and domestic violence" when they arrived at the Arizona border in early May. When Gonzalez-Garcia was told that her child was being taken from her, she said, a Customs and Border Protection officer wished her "Happy Mother's Day," and told her she'd never see her again, an act so shockingly callous and inhumane it's almost unbelievable — or at least it would have been two years ago. Gonzalez-Garcia was transferred to a detention facility in Colorado, according to a lawsuit she filed against Attorney General Jeff Sessions and several other top government officials, while her daughter was sent to Texas. Two weeks passed before she even learned where her child had been taken.
Gonzalez-Garcia filed an asylum application and was released on bond after more than five weeks of being held without charges, and is currently staying in Massachusetts. Despite providing the U.S. government with proof that she's her daughter's legal guardian, and completing a 36-page application to become her own child's sponsor, Gonzalez-Garcia was still denied custody. Per her legal filing:
Ms. Gonzalez-Garcia was informed that all individuals in the household in which she is staying would be required to submit fingerprints, and that the earliest opportunity to do this is July 16, 2018 in Newark, New Jersey. Ms. Gonzalez-Garcia was already fingerprinted by the government in May. Ms. Gonzalez-Garcia offered to provide her submit her fingerprints on an expedited basis through a private fingerprinting service, but the shelter refused that offer.
During her daughter's detention, Gonzalez-Garcia learned that she'd contracted an infection, suffered from a high fever, and been attacked by another child. She spent her eighth birthday in the detention center.
"I'll never leave you alone again," Gonzalez-Garcia told her daughter after finally being reunited at Boston's Logan Airport on Thursday. "Never. Forgive me, my darling, for leaving you alone. Forgive me. I didn't want to."
Unfortunately, Gonzalez-Garcia is actually one of the lucky ones. By virtue of an online fundraising campaign, two law firms, the ACLU of Massachusetts, and Rep. Katherine Clark, she's finally gotten her daughter back, but an untold number of children are still waiting to be released. On June 26, a federal judge ruled that all children under the age of 5 who were separated from their parents at the border must be returned to their families within 14 days, and kids over 5 must be returned within 30 days, according to Newsweek. Unfortunately, Health and Human Services Secretary Alex Azar refuses to disclose exactly how many kids his department is still holding. The day before the court ruling, he told reporters that around 2,000 children were still detained, but on Thursday, he upped that figure to about 3,000.
The HHS released a statement saying that going forward, it would only provide "the total number of unaccompanied alien children in the care of HHS-funded grantees," which includes those who crossed the border alone or were inadvertently separated from their families, not just those who were illegally seized from their parents. That number is nearly 12,000. And without specifics, it will be impossible to know if the reunions, as ordered by the court, actually happen.