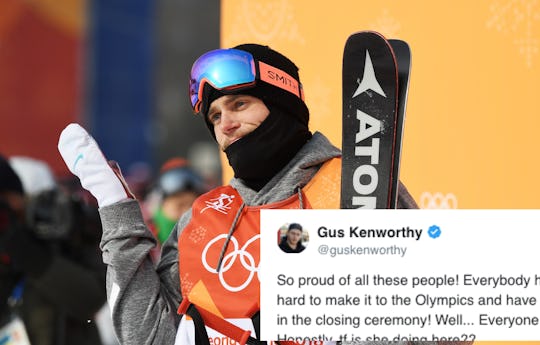 David Ramos/Getty Images Sport/Getty Images
Gus Kenworthy's Closing Ceremony Tweet Totally Burned Ivanka Trump, & It's A Big Deal
Vice President Mike Pence may have led the Team USA delegation at the 2018 PyeongChang Olympic Games opening ceremony, but when it came to the closing ceremony, President Donald Trump opted instead to send his daughter, Ivanka Trump. For the most part, her appearance in South Korea has been generally well-received, but, of course, not everyone is on board. Gus Kenworthy's closing ceremony tweet totally burned Ivanka Trump, and he's getting lots of support for it on Twitter.
The two-time Olympian may not have managed to win a medal while in PyeongChang — the freestyle skier finished 12th in the slopestyle event, according to CNN — but as one of the first two openly gay athletes on Team USA, he's arguably left a much more important mark on this year's Olympic Games. Not only has Kenworthy emerged as an invaluable advocate for LGBTQ representation in sports, he's also been completely up front about sharing his not-so-favorable opinions about the Trump administration. Ahead of the games, Kenworthy criticized the decision to have Vice President Mike Pence lead Team USA at the Opening Ceremony, according to Billboard, and said that it "[seemed] like a bad fit" given that "the Olympics is all about inclusion and people coming together." And in his latest tweet Sunday? Kenworthy took a major swipe at Ivanka, and asked, "Honestly, tf is she doing here??"
Although it's not entirely surprising that Trump decided to send Ivanka to PyeongChang (she is, after all, probably one of the least disliked and least controversial members of his administration), there are many people who have found that choice seriously problematic. For one, Ivanka is not an elected official, and she's not the First Lady — she's technically just a White House adviser. And although, in a statement, Ivanka herself emphasized that she was there to "[congratulate] Team USA and [celebrate] all that our athletes have achieved," according to USA Today, social media users can't help but point out that, really, the only thing that qualifies her to be there is the fact that she is the president's daughter (and an apparent "winter sports enthusiast," according to CNN).
Judging by his tweet, it's clear that Kenworthy agreed — and that, he may have even considered it kind of insulting to the athletes who have worked so hard to represent their country. As for the Twitter response? Well, let's just say people were pretty pleased to see him saying something:
But Kenworthy's unapologetic political statements aren't the only way he's making the most of his Olympic platform. Earlier in the week, he made headlines after cameras captured him kissing his boyfriend Matthew Wilkas after an event, according to CNN, and although Kenworthy wrote in a tweet that he didn't actually know the moment was being filmed, he was so happy by the mostly-positive response, and by the fact that it meant countless young people were now able to see a gay athlete kiss his partner at the Olympics (something he said he would have loved to have seen as a kid). And for anyone who had a problem with it, Kenworthy had one very important message. He told NBC,
My entire life in movies and commercials in public… you see straight, heterosexual love, and that's completely fine because it's normal but us also showing the same type of affection isn't shoving it in your face. It's just us existing.
If that weren't already enough though, Kenworthy and Wilkas actually put their time in the spotlight to good use yet again, when they spoke out on social media against a South Korean dog meat farm. The couple visited a farm that is in the process of being shut down, according to TIME, and opted to adopt one of the 90 dogs that were being held there. Though he said in an Instagram post that he understood that eating dogs was part of the Korean culture, and that, "it's not [his] place to impose western ideals on the people here," he did express concern about the conditions the dogs were living in, and explained that he was "hoping to use this visit as an opportunity to raise awareness to the inhumanity of the dog meat trade and the plight of dogs everywhere."
Gus Kenworthy may not have had the Olympic performance he had expected going into the games, but from the sounds of it, what he has achieved on a personal level may be even greater than earning a medal. In fact, the Sochi silver medalist told CNN that he'd be leaving PyeongChang "more fulfilled without a medal than I did at the last games with one," thanks to the fact that he's finally been able to live his life openly, and to be himself unapologetically. And while that may not sit well with the Trump administration and its supporters, that's a pretty impressive accomplishment to be sure.
Check out Romper's new video series, Romper's Doula Diaries:
Watch full episodes of Romper's Doula Diaries on Facebook Watch.