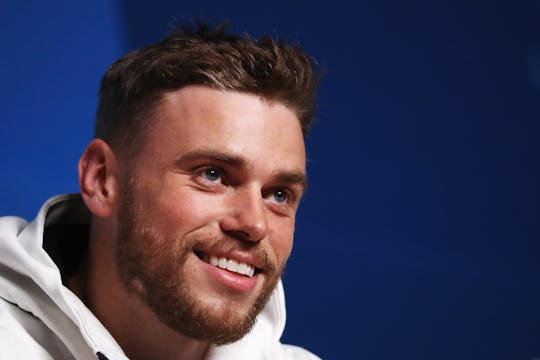 Ker Robertson/Getty Images Sport/Getty Images
Gus Kenworthy's Net Worth Will Make You Want To Pick Up Professional Skiing ASAP
The athletes of the 2018 Winter Olympics in PyeongChang make up a diverse group of individuals, each of whom brought with them a unique set of skills and a backstory worthy of a book deal. The lucky few who cash in on their skills earn a pretty penny. For example, freestyle skier Gus Kenworthy's net worth is a testament to his dedication to his sport and the brand that he has cultivated around it.
Kenworthy has gained international attention as an extreme athlete, a vocal LGBTQ rights advocate, and a compelling voice on social media. Business Insider placed his net worth at $300,000. American athletes who win gold at the Winter Olympics are paid around $37,500, according to CNBC. And while Kenworthy has yet to land a gold, he has made money in other ways.
Aside from competing in the Olympics, he has also won a number of other competitions and even appeared on MTV's The Challenge. Along with winning silver in the 2014 Winter Olympics in Russia for freestyle skiing and bronze at the games in France in the slopestyle event, Kenworthy has racked up an impressive list of sponsorships, which is where he makes the bulk of his money. His list of sponsorship deals include big names like Visa, Proctor & Gamble, Monster Energy Drink, Samsung, Deloitte, 24 Hour Fitness, and Atomic. GoBankingRates placed the skier in the top six highest earning athletes competing in PyeongChang. All of this success has even landed him a slot on Forbes' list of 30 under 30 athletes.
Along with sponsorship money and Olympic medal earnings, athletes often earn championship titles in their sport and receive payouts there as well. Kenworthy has been busy winning such titles in the past several years. He won AFP World Championships overall titles in 2011, 2012 and 2013. In both 2015 and 2016, he won the World Cup Men's Halfpipe in Utah and California, according to FactsFive. And in 2017, he earned third place in the Men's slopestyle in World Cup in Switzerland.
All of this success hasn't come easily to Kenworthy, though. He has been working at his craft since he was a child. The 26-year-old grew up in the ski town of Telluride, Colorado, the youngest of three boys in his family. He avoided the common ski slopes in favor of a local mountain terrain park, where he practiced the tricks that would lead him to his future success. "Even when he walked along the street, he never kept his feet off the ground," Kenworthy's mother, Pip, told TIME. "He'd walk along a wall, a bench, a ledge: turning, flipping, spinning." From there, he persevered until he became on of the best.
But his sport is not the only part of his life that has required him bravery and dedication. He has also positioned himself in the forefront of the LGBTQ rights movement, remaining a vocal advocate for equality. He recently spoke with People about his decision to share his sexual orientation with the world:
It was a huge deal for me, like it's just a big chapter in my life and it was something that I never thought I was going to be able to do during my career ... But also I think it had an impact that was so much bigger than me and bigger than I expected to have, and I had so many people tell me how much it's helped them.
His willingness to be open has only added to Kenworth's following. Organizations such as the Human Rights Campaign have honored him, according to TIME and he regularly receives messages on Instagram for fans thanking him for his candor and praising him for sharing his courage.
All of these qualities are exactly what have led Kenworthy down the path to his success. It's no wonder the sponsorship deals keep rolling in. Enjoy the ride, Gus. You deserve it.
Check out Romper's new video series, Romper's Doula Diaries:
Watch full episodes of Romper's Doula Diaries on Facebook Watch.