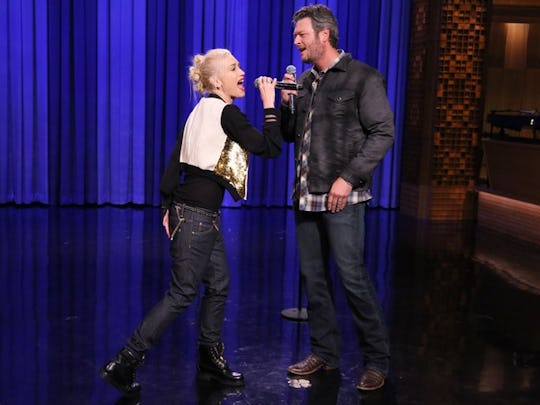 Gwen Stefani & Blake Shelton Are Officially A Couple & These Are All Of The Things I'm Feeling Right Now
A rep confirmed that Gwen Stefani and Blake Shelton are dating indeed. News of the new couple broke Tuesday, when it was discovered that Gwen and Blake landed in Nashville together via private jet. Blake is slated to perform at the Country Music Awards, and evidently Gwen, well, just wanted to be with him. 
In an interview with Ryan Seacreast on November 3, Stefani teased us all by copping to finding her "The Voice" co-star attractive. "I think he's hot, don't you?" but didn't fess up to anything more. In fact, she coyly went on to say that network execs were to blame for rumors of a hot and heavy romance. "I think NBC did that. Two divorced people at the same time," Stefani told Seacrest in the same interview. So much for that! 
They've been playing the "just friends" card for a while, but couldn't wait any longer to come out. And what better time than country's hottest night?
Rumor has it Stefani wants to party with "the country guy." Because Blake's ex, the "Crazy Ex-Girlfriend" singer,  Miranda Lambert is also performing at the CMAs, it might make for a tense evening. Always a class act, the hollaback girl does not plan to attend the ceremony, but will be with her new flame at the after parties. But hey, we're all adults here, so if you want to walk the red carpet with your new man, girl, you've got my OK. After all Shelton is all about being an amicable ex; he claimed he and Lambert were "buddies" in a Sept. 27 interview with People.
No word yet on how the two got together. Did they find comfort in each other on-set? Is this bound to be a rebound fling? What will happen between the two coaches on-air? Right now, I don't really care. I'm just enjoying the hotness. 
Images: Douglas Gorenstein/NBC; Giphy (2)