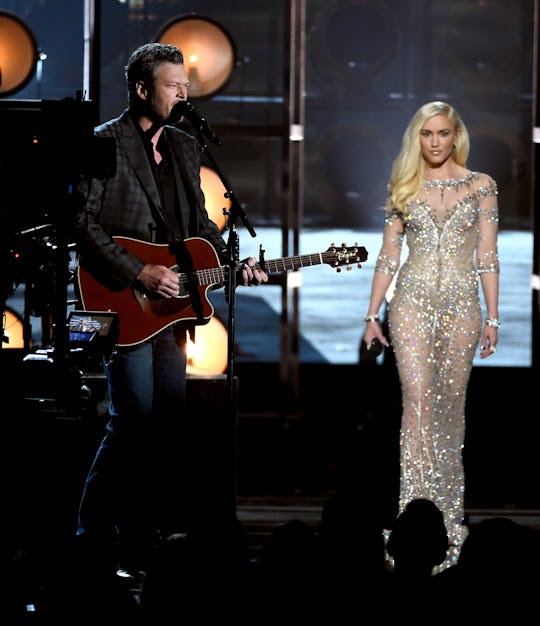 Kevin Winter/Getty
Gwen Stefani & Blake Shelton's Billboard Music Awards Performance Was A Live Love Letter
Ever since Miranda Lambert and Blake Shelton split up, Shelton's relationship with Gwen Stefani has dominated the media. They're undeniably cute together, not to mention the fact that they've both got an impressive set of pipes on them. When Billboard announced that Stefani and Shelton would be performing a duet at the Billboard Music Awards, the expectations were — of course — pretty high, but the power couple did not disappoint. Stefani and Shelton's duet at the Billboard awards show was 100 percent country, and their feelings for each other were palpable.
The couple sang "Go Ahead and Break My Heart," their new single off of Shelton's newest album, If I'm Honest. It's a song they co-wrote while recovering from their respective divorces, and they first debuted it on The Voice, which is incidentally the show where they met. "When I originally started writing this song ... I was only trying to impress Gwen," Shelton told Entertainment Tonight. He explained their process for writing it was fairly simple:
I started this song and wrote about half of it and sent it to her and she wrote the other half of it. It was just kind of something for she and I to help us feel better about what we were going through.
Stefani, for her own part, explained to Chelsea Handler on her show recently, "He's like, 'I wrote this song' and I was like 'Whoa what if I don't like it, huge turn off!' I listened to it and thought 'Oh my God, I love this.' He said, 'Write the rest of it.'"
At the Billboard Music Awards, you could definitely feel the emotion behind the song — not to mention the couple's undeniable chemistry.
Stefani was wearing a sparkling, silver, floor-length gown as she and Shelton crooned to one another. Shelton's deep accent brought some extra country twang to the song during his portions, while Stefani's voice was as beautiful as usual.
Although the recent couple didn't enjoy any public displays of affection during the show — except for a quick squeeze at the end of their performance — they gazed at each other with heart-eye-emoji looks on their faces throughout the duet. Judging by how loving they looked while performing, it looks like "Go Ahead and Break My Heart," is just an opening chapter in Shelton and Stefani's relationship... and possibly, in a string of future duets. (Hey, I wouldn't doubt it.)