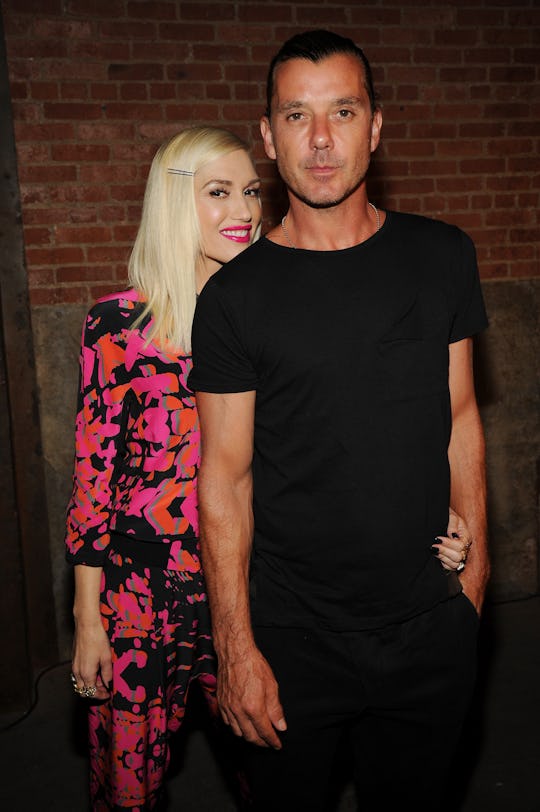 Bryan Bedder/Getty Images Entertainment/Getty Images
Gwen Stefani & Gavin Rossdale Talked About Blake Shelton & Custody, Which Is A Big Step
If there's one Hollywood romance that seems to be taking off in a good way, it's Gwen and Blake. And it looks like things are going so well, in fact, that Gwen Stefani and Gavin Rossdale met up to talk Blake Shelton, about where her new relationship is headed, and what that means when it comes to the kids. Which, if they weren't celebs having to do it in "secret," according to Us Weekly, is the most normal, natural next step after a custody-laden divorce. According to sources, Gwen and Gavin (collective sigh here for anyone still sort of mourning the '90s pop rock heartbreak), met up to talk about Gavin's dad-status.
Anyone who's gone through or witnessed a divorce with kids can most likely empathize. Stefani and Shelton have been going strong and in public. They cheer each other on on social media, give sultry performances together, and generally just seem to be enjoying the heck out of a new love. It's normal for the third party to start wondering what's up.
Rossdale, according to sources, wanted to discuss the new romance and how it "will affect the kids going forward." The rocker allegedly wants to be "consulted on everything concerning the kids and the role that Blake is playing in their lives." That makes sense, especially since Shelton reportedly wants nothing to do with Stefani's ex-husband.
Us Weekly's sources say that Shelton is "disgusted" by Rossdale, since he allegedly cheated on Stefani with the nanny after 13 years of what was a (seemingly) blissful marriage. But that cause for the breakup has never been totally confirmed by either party. There have also been some (wildly) unconfirmed reports that Blake Shelton recently got down one knee and proposed to the singer and ex-Voice judge on their six month anniversary.
I don't know if it's because there's reportedly a box of fried chicken involved or that no major outlet has confirmed the story — but that just seems a little unlikely, even if the pair has been nothing but vocal about their rebound (in a good way!) relationship.
According to People, her kids are giving Stefani pause in moving forward with a relationship. "She tried so hard for the kids to keep the marriage together. Then here came this ray of sunshine who did make her smile, and now he's one of the most positive people in her life," a source told the magazine. It makes sense that Rossdale and Stefani would have rehash what "shared custody" actually means. No one likes watching their kids go off with the new beau and their ex, no matter the circumstances of the divorce or new relationship status. It stinks all around.
Breakups and new romances are hard to navigate. And it's even more complicated when there are little people involved, who might not understand the complexities of their "new normal." Everyone seems to be moving on and it looks like (obviously) Gwen and Gavin will always share a mutual love for each other and their kids. If it means anything, even celebs have to have those "secret" meetings about weekend pick up times. Just like us, right?