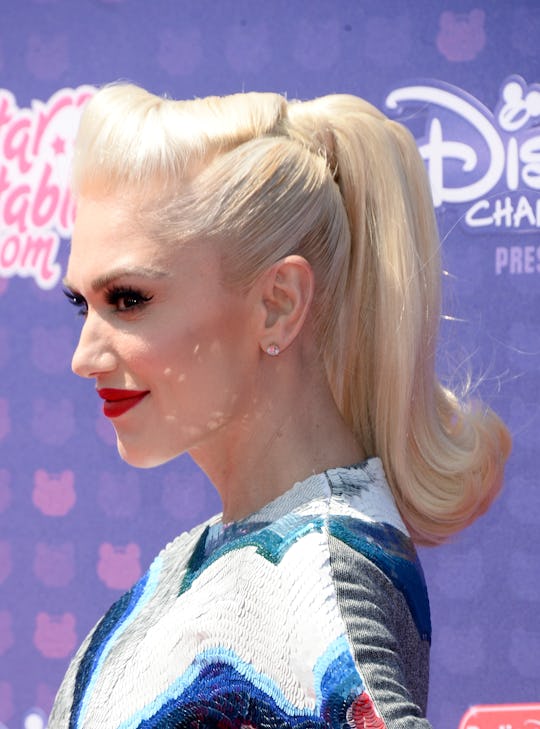 Matt Winkelmeyer/Getty Images Entertainment/Getty Images
Gwen Stefani Gets Emotional Talking About Motherhood & Protecting Her Kids
Gwen Stefani was on Toby Knapp's iHeart and took a break from promoting her latest tour to talk all things mom, including how she copes with trying to raise three boys in the public eye, and how excited she is to take her brood on tour with her starting this summer. Stefani talked about motherhood and the craziness that comes with being a mom in the spotlight, but, of course, she seemed incredibly chill about it. How else could she maintain her sanity in the midst of her crazy life?
Knapp opened up the interview gushing over Stefani, who he said is a role model to little girls everywhere, including his own daughter. Knapp perfectly summed up at the beginning of the interview what it is that makes Stefani special and has earned her the admiration of millions of fans — especially girls.
"As a father of a little girl who was once like you, who has big, big dreams I want you to know that I'm thankful she has someone like you to look up to," Knapp said. "Seriously, the last few months, year of your life have been crazy, but my daughter sees how you've come through this with grace, class, style, strength — the world never stopped being yours and I'm thankful that Kyla has you to look up to."
So sweet and so true. Here's the whole interview.
Knapp was of course referring to the ugly cheating scandal that imploded her 20-year relationship with rocker Gavin Rossdale, the father of her three boys Kingston, Zuma, and Appollo.
Then she talked about how she deals with paparazzi as a mom and parenting in the spotlight. "You just kind of like accept that's part of it," Stefani said about being hounded by photogs. "It's a small part of my life. It's fine. I don't feel like I have anything to hide."
But sometimes she admits she goes all "mama bear" on the paps. "I'll say something like, 'OK you gotta let these boys play right now,'" she said, adding that sometimes they need to run free and make friends just like the other kids.
But mostly, she said, she just feels grateful for everything in her life. "I'm so blessed to have new music, to have this opportunity," she said. "The idea of complaining about something like that is ridiculous, I'm just so grateful."
Now, she'll be taking her mom show on the road along with her three boys she heads out for her upcoming "This is What The Truth Looks Like" tour with Eve. And she said she's excited to travel around the country and explore with her kiddos.
"They're so lucky they get to go see our country," Stefani said. "They get to explore."