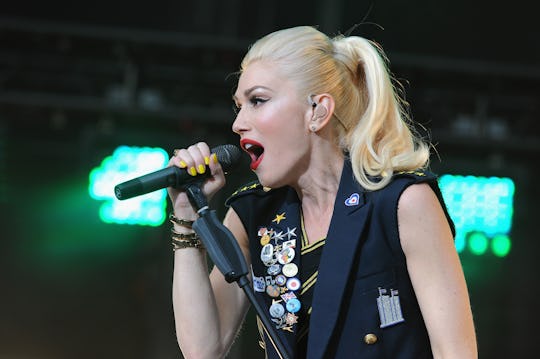 Gwen Stefani Opens Up About Life After Her Divorce, & It Doesn't Sound So Bad
Breaking up is the pits. And when it's a very public divorce, and there are kids involved, it's even more complicated. Gwen Stefani opened up about her divorce from Gavin Rossdale and it's incredibly sad. In an interview with Carson Daly Monday on 97.1 AMP Radio, she said that her "entire life blew up in her face." Yup, that's pretty much what it feels like. But the musician and The Voice judge has been, at least publicly, taking it all in stride. Stefani says she's that cliche, newly single girl, going out and partying. "Yea, watch me," said, according to People. 
Who can blame her? There are two options when your life blows up in your face. You can order take-out and watch Netflix in the dark for three months. Or you can wipe your tears (because you should definitely cry. A lot.) and move on. Stefani and Rossdale have three children together: Kingston, 9, Zuma, 7, and Apollo, 20 months old. Option number two is really the only one to take, no matter how she feels on the inside. She talks about going back to work for the first time:
On the way into the studio the first time, I didn't want to go. I wanted to be in my bed, like, crying," she shared. "And I did, I cried all the way down to Santa Monica, driving to Santa Monica, and I was like, 'What am I doing? Why am I doing this?'"
Stefani and Rossdale were married for 13 years and just settled the divorce last month. Who doesn't remember them as the most perfect couple? Apparently, just like lots of people in long-term relationships, the Gwen and Gavin just fell out of love with each other. This is the first time Gwen has opened up about what she's been up to this year since the split. Like everyone else trying to cope after having their life blow up, Gwen's focusing on her work and "trying to live in the present." When Stefani and Rossdale first filed for divorce back in January of last year, she gave a tearful interview about missing Gavin and trying to balance all of the "craziness" of being a single mom. This time around it sounds like, despite the explosion, things are looking up. It's just about waiting for everything to settle down and adapting to the new normal. And going out with your friends. A lot. 
Image: Richard Chapin Downs Jr./Getty Images